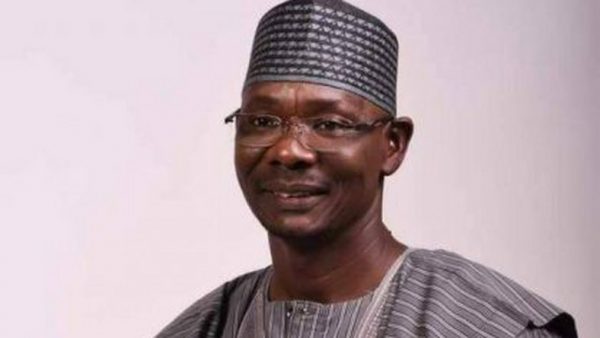 Governor Abdullahi Sule of Nasarawa State on Saturday received the National Sports Festival Torch of Unity and reiterated his administration's commitment to providing critical sports infrastructure to boost sporting activities in the state.
The Governor, represented by his deputy, Emmanuel Akabe, received the NSF Torch of Unity from Saka Akeem, representative of the Federal Ministry of Youth and Sports Development, flanked by Othman Bala-Adam, Nasarawa State Commissioner of Youth and Sports Development, and a contingent of Nasarawa State athletes at the Lafia township stadium.
He lauded the Federal Government for ensuring sustenance of the NSF aimed at ensuring unity and discovering sporting talents across the nation.
He noted that his administration attached a lot of importance to sports development as an avenue to empower youth and curb restiveness, hence its investment in the sector.
Sule said: "This administration has prioritised sports and is fast using it as a source of revenue generation and job creation for our wonderful and talented youths, sportsmen and women we have in the state.
"That is why we are building and intending to build standard sports structure to accommodate all sports in the state and meet sporting aspirations of our sports loving youths and this we are doing in collaboration with the private sector."
Sule added that his administration's target was to make Nasarawa State the sports hub in Nigeria, hence the commitment to put in place the needed infrastructure to be able to host national and international sporting events in the state.
He said: "Our desire is to become the sports hub in Nigeria.
"That is why we are working considerably to be in a position to begin to bid for either national or international championships to be held here in Nasarawa State.
"We are collaborating closely with the private sector to ensure that our structures and hospitality sector meet international standards so as to open doors of opportunities for us in terms of sports development and jobs creation in the state."
Sule pledged his administration's full support to Team Nasarawa ahead of the forthcoming National Sports Festival in Edo State, assuring them of huge rewards for every medal won for the state.
Speaking earlier, Akeem, Zonal Coordinator, North Central Zone, Federal Ministry of Youth and Sports Development, said the Torch of Unity had already visited Plateau State, Federal Capital Territory, Niger, Kwara, Kogi and Benue States and was in Nasarawa State to complete the tour across the North Central geopolitical zone before visiting other zones of the country.
He thanked the Nasarawa State Government for receiving the Torch of Unity entourage and encouraged the Sule administration to continue to give priority to sports by contributing adequately to sporting activities and putting in place sports structures across the state.
"We all know that without adequate facilities, sports development cannot move forward. So I still implore and urge his excellency to still do more," he said.
Bala-Adam revealed that preparation had already begun, adding that the athletes would soon be camped to get them prepared, fully concentrated, disciplined and enhance team spirit before the festival.
He also added that the response of corporate organisations in the state in terms of support for the state contingent had been very positive.
The News Agency of Nigeria reports that the 2020 National Sports Festival Unity Torch is expected to go round the 36 states of the federation and the FCT before the festival commences in March.
The 20th NSF, tagged: "EDO 2020," is scheduled to run from March 20 to April 3, 2020, with the opening ceremony on March 22.
—