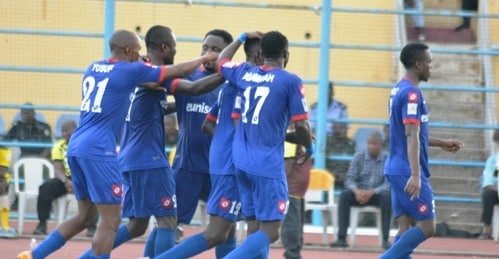 Rivers United vs Abia Warriors
Venue: Yakubu Gowon Stadium, Port Harcourt
Kick off: 4PM
Rivers United's performances in the Nigeria Professional Football League this season have been anything but exemplary.
Currently ensconced in the relegation zone, the 'Pride of Rivers' have struggled to hit the heights of last season when they were regularly among the top hitters.
Last term, United went into their final league game of the season, away to Akwa United, with a chance of nicking the title, but things seem to have gone pear-shaped for the Port Harcourt club just a few months later.
A 2-0 win over ABS FC in Thursday's rescheduled NPFL game however suggests that the sleeping giants may be stirring from hibernation.
Consistency is however required by the Port Harcourt side and that means victory over today's opponents in Port Harcourt, Abia Warriors FC, in non-negotiable.
It will not be an easy feat to accomplish.
Memories of last season's game against the Warriors at the same venue will still be fresh in the minds of the United faithful.
The game, a drama-filled 0-0 draw, literally put paid to Rivers United's hopes of claiming an unlikely title last season with the hosts missing a plethora of chances.
Abia Warriors have never lost to Rivers United in competitive and non-competitive fixtures and they come into Sunday's game in boisterous mood.
Fifth on the table with just one defeat suffered in their last seven domestic fixtures, the boys from 'God's own State' will not be contemplating defeat today.
They (Abia Warriors) will however require a water-tight plan to be executed to perfection to pull off the feat against a resurgent Rivers United side and this fact is not lost on head coach of the side, Abdullahi Usman Biffo.
Biffo said: "We have been trying to ensure that the result we got here last season don't go into the players' heads because this is a new season entirely.
"Rivers United have not been doing well recently so they have to go all out.
"They (Rivers United) just won their rescheduled match against ABS FC on Thursday so they are back to winning ways and we have to be careful.
"We must try not to concede early goals and we must be careful with our tactics to ensure that we get something here (in Port Harcourt).
"We know it will not be an easy game because it is a game between neigbours.
"We are aware of the strength of the club; we are aware of the seriousness of the team and we will not want to let our fans or management down.
"We are in Port Harcourt to get something."
Abia Warriors boast of extremely impressive personnel: Moses Ocheje is a top class goalkeeper with plenty of years in the top flight under his belt, while former Heartland captain, Chinedu Efugh, is legend in his own right.
Ndifreke Effiong is a football artist who can hit a pin head from range and United will be well advised to avoid giving away free kicks around the 25-30 yard mark if gnashing of teeth is to be avoided.
Anthony Okemiri, Sunday Adetunji, Henry Ochuba and feared marksman, Henty Ihuarulam are other Warriors who can upset the applecart in Port Harcourt.
The United technical manager, Stanley Eguma, is however in bullish mood and is eager to lead his side to their second league win in as many games.
Eguma said: "We are ready for what is a very big game. We have returned to winning ways after beating ABS and we hope that we will take it from there against Abia Warriors.
"We know they are a very side so we are not taking them for granted."
Both sides will be desperate for the points today for very different reasons.
Rivers United have never scored against Abia Warriors and will need to buck that trend to put their season back on track.
Rivers United is in 17th place on the NPFL log with 18 points from 15 matches, while Abia Warriors currently occupy fifth spot with 25 points from 17 games.