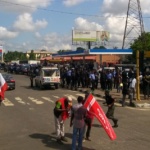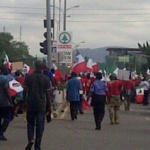 A faction of the Nigeria Labour Congress on Wednesday begun its promised strike in Abuja.
The faction, led by Ayuba Wabba, marched from its office in the Central District of Abuja to the Federal Secretariat.
The other faction, let by Joe Ajaero, on Tuesday night said it was opting for further dialogue with the government instead of immediate strike.
The Wabba faction has said once the strike commences, it would not look back until the National Executive Committee directs otherwise.
However, several workers had arrived at and commenced work at the Federal Secretariat before the arrival of the protesters.
In Lagos, the police have dispersed a group of protesters on the popular Ikorodu Road.
Made up largely of street urchins, popularly known as Area Boys, the protest centred mainly around Onipanu Bus Stop of the popular road.
The protesters were impeding movement of vehicles.
However, the rally organised by the NLC in some other parts of Lagos, including Maryland, was ongoing as at press time.
The Lagos State Secretariat, according to report, was full of activities.
Banks remained opened as at press time.
However, in Akure, the Ondo State capital, the strike was said to be total.
Government offices were deserted.
In Jos, the Plateau State capital, there is said to be calm.
However, some government offices were closed by the NLC.
Banks are equally said to be rendering skeletal services.