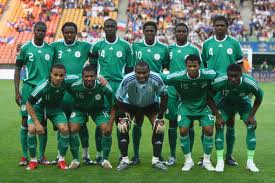 The Nigeria Football Federation inspection team said on Tuesday that it was satisfied with what it saw at the U. J. Esuene Stadium in Calabar, Cross River State after inspecting the facilities on ground ahead of the crucial Africa Cup of Nations preliminary qualifier between Nigeria and Rwanda.
Chairman of the NFF Technical Committee, Christopher Green, said shortly after the team, which also comprised Security Committee Chairman, Effiong Johnson, and Director, Technical, Emmanuel Ikpeme, inspected the practice pitch, main pitch, dressing rooms and floodlights among others, that he was impressed with what he saw on ground.
Green said: "Except for the main pitch, which needs a few touches, I must say we are satisfied with what we've seen on ground. The dressing room is in good condition, so also are the floodlights and others. We are impressed."
On whether Calabar has been chosen as the venue of the match, Green said it was entirely the decision of the NFF board.
"We'll make our submissions to the board and they will decide on what action to take," he said.
The NFF had before now picked Ahmadu Bello Stadium in Kaduna as venue of encounter but with the recent bombings that took place in the Northern city and pressure from many quarters, the football body has been forced to reconsider its position.
When asked if Kaduna was safe for the encounter as against Calabar, Johnson was silent on the issue.
"All I can say is that we will make a recommendation to the NFF board which will then come up with a decision," Johnson said.
The Super Eagles of Nigeria will on June 15 play the Wasps of Rwanda at a yet to be decided venue.