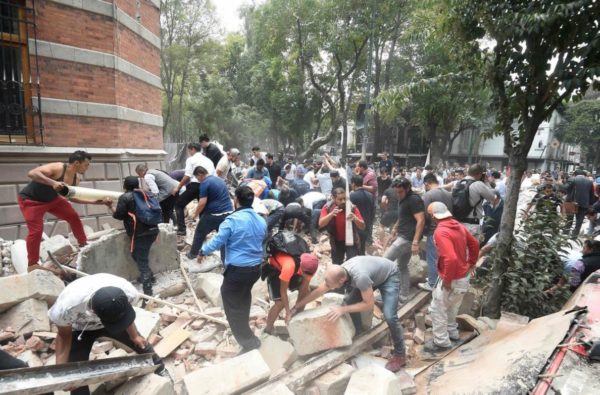 At least 217 people are dead after a 7.1 magnitude earthquake rocked central Mexico Tuesday afternoon, hitting on the 32nd anniversary of the biggest earthquake to ever strike the country's capital. More than half of the fatalities are in Mexico City, the country's civil defense agency said.
The earthquake caused extensive damage to Mexico City, leveling at least 44 buildings, including homes, schools and office buildings, according to President Enrique Pena Nieto, who did a flyover of the city Tuesday afternoon.
Among the dead are at least 22 people, including students and at least two adults, from a collapsed primary school in the south of the city. Pena Nieto visited the school late Tuesday. He said those 22 bodies have been recovered, but that 30 children and eight adults are still missing.
Rescuers were clawing at the wreckage looking for survivors late Tuesday, pausing to listen for voices. The Associated Press reported relatives said they had received WhatsApp messages from two girls inside.
The more than 200 deaths occurred in Mexico City, and the states of Morelos, Puebla and Mexico, said Carlos Valdes, director of Mexico's National Center for Prevention of Disasters.
Luis Felipe Puente, the head of Mexico's National Civil Defense Agency, announced at about 4:30 a.m. they were actually revising the earlier death toll of 248 to 217.
Preliminary numbers show about 3.8 million customers are without power, Mexico's Federal Electricity Commission said.
Meanwhile, the city's airport descended into chaos as the ground rippled and chunks of plaster fell from the walls, Dallas resident George Smallwood told ABC News. "I felt the ground shaking, and I heard everyone screaming and starting to run," he said, adding that at first, he thought he was in the middle of a terror attack.
Smallwood had stopped in Mexico City for a long layover after a vacation in Medellin, Colombia, and had spent the day exploring the capital. He was getting ready to go through security at Mexico City International Airport for his 3:35 p.m. flight back to Dallas when the earthquake hit.
Parts of the ceiling were "swinging back and forth," he said, and the panicked crowd took off "running in every different direction."
The tremors lasted for about six to seven minutes, he estimated. Once the shaking subsided, first responders swooped in to help the injured and a fleet of military and police helicopters buzzed overhead, he said.
Smallwood's flight was rescheduled for 8:30 a.m. Wednesday, so he will need to find somewhere to stay for the night, he said.
. Good Morning America.