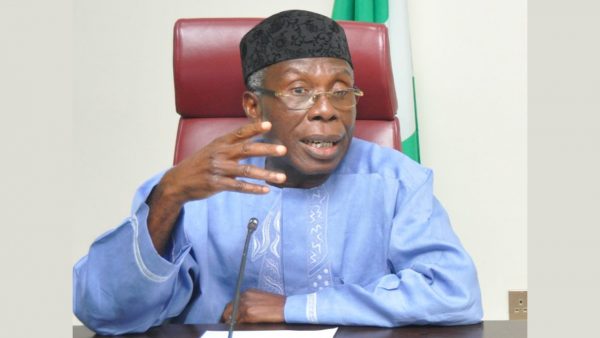 Chief Audu Ogbeh, the Minister of Agriculture and Rural Development, has called for an urgent campaign against the use of pesticide to store agricultural produces for local consumption and exportation.
Ogbeh made the call in Abuja on Monday at a stakeholders' round-table to find a lasting solution to the incessant rejection of the country's agricultural produces at the international market.
According to him, the ministry needs to partner with the National Orientation Agency to undertake enlightenment campaigns on the danger of these chemicals to human health.
He said: "And this will be done via radio and television station in areas with massive production of what we consume, on the best storage practices to meet international standards.
"We are in crisis. How do we educate these people to know that what they are practicing is bad? We have to still educate our people not necessarily by sending them to school.
"No wonder, we have young people coming down with liver, kidney failure. Nobody knows which particular misconduct of ours is leading to the damage to the health of our people.
"We need to work in this together with NOA. We have to develop strong strategy and committee for reaching farmers and sellers through radio, television campaign first.
"How do we get the society fully educated on the danger and risk of our careless habit? Our knowledge of what is wrong is not enough but getting the society to recognise that these things are not good.
"Let me hear from you what kind of advice you can give let's get to work.
"One of these days, I will invite you to the market and we sit with these traders and ask few questions where they get their products from and how it was being stored."
Theather Akanni, the Technical Adviser to the Minister of Agriculture on Quality Control, said that it was in a bid to address the rejection of the country's agricultural produces that the Federal Government inaugurated a committee.
She said that the committee which consisted of 16 Ministries, Departments and Agencies had enjoyed support of the EU and UNIDO toward ensuring that best practices were embrace.
Akanni said: "The zero reject committee was inaugurated in 2016 under the chairmanship of the minister of industry, trade and investment.
"The committee has produced four major documents which we have copies here.
"It has validated export control plan for various agric produce. It also contained the trial for processing storage and export procedures.
"The committee has launched the process for beans and exportation. We have realised the need for more awareness for campaign against the usage of chemical on agricultural produce.
"Since the breakout of a video where two marketers were seen using sniper to store beans has become a thing of concern for the ministry.
"That is why the minister has summoned us all to forge ahead by having a collective and high level strategy on public enlightenment."
On his part, Prof. Olufemi Peter, the Executive Director, Nigerian Stored Products Research Institute, said that beans could be stored for short or long periods without using chemicals.
He said that if the beans have been infested, it could be placed in air-tight containers and placed under freezing conditions as cold shock treatment.
He further stated that beans treated directly with chemical should be consumed after six months of storage, during which their active ingredients would have degraded.
Vincent Isegbe, the Coordinating Director, Nigeria Agricultural Quarantine Services, said that a 21-page policy document on pesticides would be ready in few weeks, adding that Nigeria has no National Policy on Pesticide.
Alhaji Shitu, the National President, Cowpea and Beans Value Chain, said that the association had set up beans aggregation centers across the states where beans would be collected, sorted and graded for effective monitoring.
He said that the association would work with relevant agencies to ensure that the act was control to ensure the success of the proposed national pesticides policy.