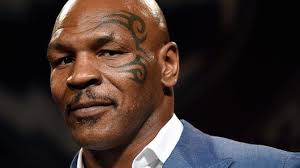 Former world heavyweight champion, Mike Tyson, says he will coach rap star, Chris Brown, in the build up to his proposed fight with Soulja Boy later this year.
Brown agreed to settle his differences with Soulja Boy in a televised boxing match earlier this month after the pair had been trading barbs on social media.
And the showdown is beginning to look like it might actually happen, with Soulja Boy enlisting the help of Floyd "Money" Mayweather for his training camp.
Not to be outdone, Brown, 27, recruited knockout artist Mike Tyson to be his cornerman, as the retired 50-6-2 fighter even recorded a message to confirm the news on Instagram.
"It's official, I'm training Chris. He chose me as his trainer to take on Soulja Boy," Tyson told his 3.7m followers.
"Soulja Boy what the f*** are you talking about saying the only thing I'm gonna teach him is to bite somebody's ear off?
"Yeah that's right, I'm gonna teach him every single dirty trick in the book to knock you out, 'cos I'm not gonna teach him how to run."
With two of the sport's all-time greats now personally invested in the showdown, the novelty fight is becoming an increasingly interesting prospect.
No details have been confirmed as yet, although a post on Soulja Boy's Instagram feed seemed to suggest the fight would take place in Vegas in March.