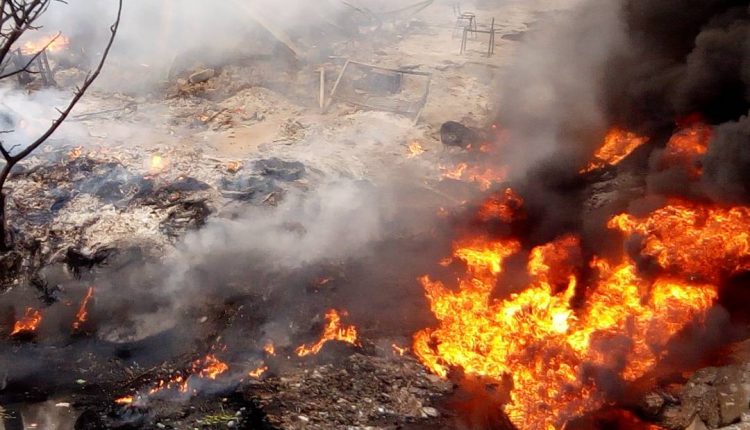 At least 21 different vehicles and five motorcycles were burnt on Wednesday in Lagos after a tanker laden with petroleum product had exploded.
Confirming the incident, Kehinde Adebayo, the spokesman of the Lagos State Emergency Management Agency, however, said no life was lost in the incident.
Adebayo said: "A distress call was passed to the LASEMA Response Team on 13th December concerning a tanker on fire at FESTAC link bridge.
"Upon arrival to the scene of incident at about 12:45p.m, it was revealed that a tanker loaded with 33,000 litres AGO (diesel) detached from its truck and fell by its side.
"It later exploded due to an aftermath ignition of a commuter bus.
"However, no life was lost but one adult male sustained a minor injury. The inferno affected 21 cars (18 cars and 3 commuter buses) and 5 bikes.
"The agency's rescue/recovery equipment is on ground to ensure the burnt vehicles are taken off the road."
Adebayo said combined effort of the emergency responders – LRT, Police, Lagos State Fire Service, Federal Fire Service and Lagos State Neighborhood Watch – were able to put the fire out at 2:20pm.
He said proper investigation would be conducted on the incident.