The Lagos Police Command said six out of 19 persons arrested during the gubernatorial election would be prosecuted for alleged electoral offences.
The Command's Spokesperson, SP Benjamin Hundeyin disclosed this Tuesday in the State while parading the suspects and others at the State Criminal Investigation Department, Panti-Yaba.
Hundeyin said the suspects arrested were involved in 21 cases which include: attack on INEC officials, vandalism and ballot box snatching.
Others are: possession of fake INEC ID card, conduct likely to cause breach of the peace, assault occasioning harm and illegal possession of firearms.
He said that four of the suspects would be prosecuted by the INEC, while two found with arms and involved in other criminal acts would be prosecuted by the police.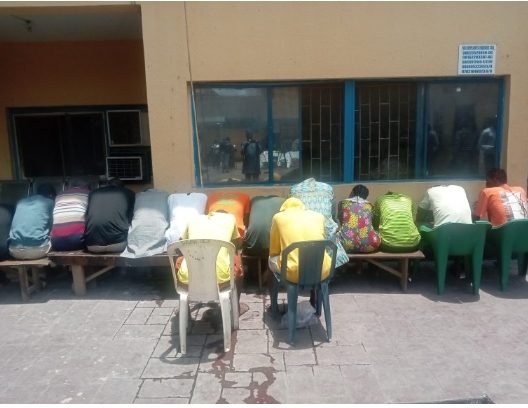 The Spokesperson said that the suspects would be transfered to Force Headquarters Abuja where they would hand some over to INEC centrally, and prosecute those whose crimes fall under the police.
Hundeyin said that others paraded include: two who were allegedly involved in violence at Abule-Ado in Amuwo-Odofin area of Lagos and a suspected cultist.
He said that three suspected kidnappers, who allegedly confessed to have collected about N20.7 million ransom from victims were also arrested and paraded.
The image maker said that two other suspects allegedly stole a truck parked by its driver, which was carrying a brand new car belonging to the American Embassy in Lagos.
Hundeyin said that the suspects were arrested while trying to sell off the truck with the car at the cost of about N5 million.
"The truck will be handed over to the U.S. Embassy, while the suspects would be charged to court," he said.
He said that two suspected robbers, using Lagos commercial bus to rob prospective passengers were also being paraded.
The image maker alleged that the suspects stole the victims' phones with a view to using the SIM Cards to buy credit or transfered the money in the victims' accounts.
He advised members of the public to always lock their SIM cards, as the suspects confessed that they were unable to use such cards.
Hundeyin said that the suspects would be charged to court at the completion of their investigations.
NAN