The Lagos State Government has reacted to the action of a Principal who sent a secondary school student home for wrapping her book with a poster of the presidential candidate of the Labour Party in the February 25, 2023 election, Peter Obi.
The reaction of the Lagos State Government was contained in a statement by the Lagos State Ministry of Education.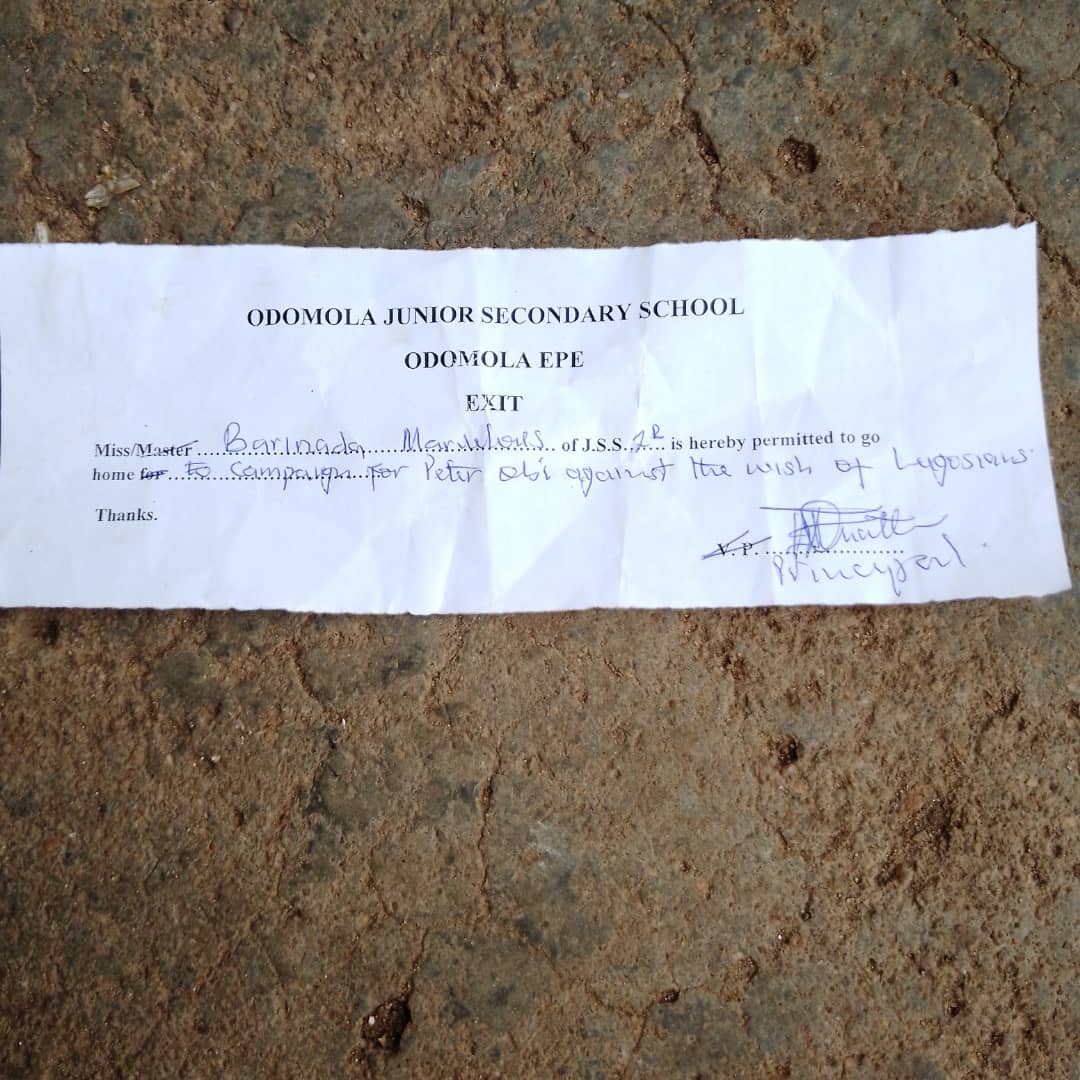 According to available information, the incident occurred at Odomola Junior Secondary School, Epe.
The father of the 10-year-old Junior Secondary School 2 student of Odomola Junior Secondary School, Odomola, Epe, Marvelous Barinaadaa, brought the incident to the notice of the public.
He wrote: "This is to inform you all, that my Daughter Marvelous Barinaadaa, was exited from Odomola Secondary school today 14th March,2023.by the school Principal, just because my daughter use Peter Obi poster paper to Rap her note Book for school, and this girl is just Ten years old, she didn't know anything about Politics, but she was sent away from school without informing the parent, because they say we support Peter Obi and Labour. Please, Is this Act by the school Principal good, See what the school Principal wrote on that Letter."
Reacting in a statement by the Assistant Director, Public Affairs, Ministry of Education, Ganiu Lawal, the State Government said: "The Lagos State Government, the Ministry of Education and all its agencies will never instruct any school principal, personnel or teacher to act in such a manner.
"The Commissioner for Education, Mrs Folasade Adefisayo, reassures the public that the matter will be dealt with within the scope of our strict regulations as the reason for sending home the student is unacceptable – if true.
"Mrs Adefisayo also hinted that another school principal at Odonguyan who was caught on camera, as shared on social media, promoting her political choice to the students has been subjected to appropriate disciplinary measures.
"The Ministry promotes and runs a public school system devoid of politics and political insinuations. A thorough investigation of the matter will be carried out and anyone found culpable will be subjected to disciplinary measures as laid down in the civil service rules."