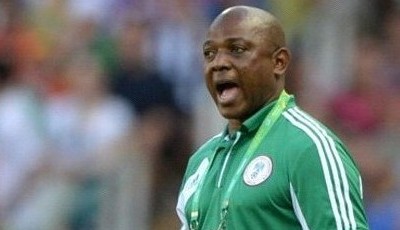 Coach Stephen Keshi has asked Nigerian President Goodluck Jonathan he wants a new, improved contract that will pay him N10 million a month, which is double what he received in his initial contract that ran out after the World Cup.
AfricanFootball.com can exclusively reveal that Keshi, who met President Jonathan at the Aso Rock Villa in Abuja on arrival from the World Cup in Brazil, also demanded that his new salary be paid upfront to avoid the delays he suffered in the previous deal.
He also demanded for the recall of assistant coach Sylvanus Okpalla to the backroom staff and said he should no longer report to the NFF technical committee as regards team selection and preparations.
A top official at the Presidential Villa told AfricanFootball.com: "He demanded for N10 million a month, which he wants to be paid upfront to check any delays.
"He also wanted what he called a free hand as regards his team selection and preparations, saying he no longer wishes to deal with the technical committee.
"He also wanted Okpalla back to his backroom staff.
"The President has assured him that his demands will be considered."
The NFF had proposed a new deal of N7 million a month for Keshi.
Meanwhile, it has been gathered that Keshi paid a solidarity visit to Aminu Maigari, whose executive committee was restrained by a Jos, Plateau State High court last week from running the country's football.
Keshi was accompanied by a secretariat staff of the NFF to Maigari's house in Abuja at the weekend.
Maigari was whisked away for questioning by security operatives on arrival from the World Cup in Brazil.
He was later released.
Courtesy: AfricanFootball.com.