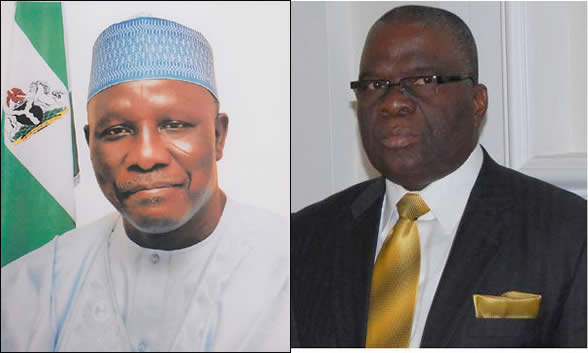 The Kaduna State Governor, Patrick Yakowa, the Former National Security Adviser (NSA), General Owei Azazi and four others were this afternoon burnt to death in an helicopter crash in the northern part of the Okoroba community forest in Nembe Local Government Area of Bayelsa State.
The other four persons have been identified as the Pilot of the Naval Helicopter and his co-pilot.
The other two persons were security aides to the late governor.
Eyewitness accounts say that the helicopter was sighted in the sky wobbling before the fatal crash. The time of the crash was estimated to be 3.30pm.
One of the early arrival at the scene of the accident, the former Chairman of the Okoroba Community Development Committee (CDC),Comrade Hitler Adunion said that the helicopter nose dived into the forest and burst into flame.
Adunion said: "We sighted the chopper wobbling and crashed landed. By the time we got to the scene, it was in flames.
"We tried to put out the flame but it was difficult. We saw the roasted bodies of those inside."
A former Commissioner of Information,Strategy and Communication in the state,Chief Nathan Egba,expressed sadness over the incident and said the last he saw of the Former Security Adviser at the burial ceremony of the late Father to Presidential Adviser,Oronto Douglas.
The National Youth Leader of the Action Congress of Nigeria,Comrade Miriki Ebikibina,described the fatal crash as a rude shock and a big blow to democracy in Nigeria.
Azazi was said to be sitting close to the Former Governor of Bayelsa, Dr.D.S.P Alameiseigha, the Former Managing Director of the Niger Delta Development Commission (NDDC), Mr.Timi Alaibe, Nollywood Actress, Rita Dominic and the Late Governor, Patrick Yakowa.
The Bayelsa State Governor, Hon.Seriake Dickson,was reported to have left the same burial ceremony with his hired helicopter and participated in the Chairmanship primaries of the People's Democratic Party (PDP). He was on his way to Port Harcourt before he got the news of the crash.