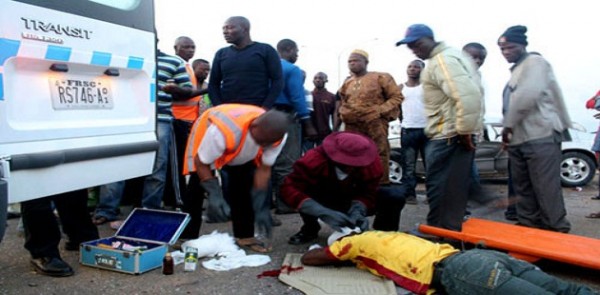 An auto crash, which occurred at Asejire end of Osun State on Friday led to the death of five persons, while others sustained severe injuries.
Among the dead was a journalist, Nathaniel Abimbola, working with the Osun State Broadcasting Corporation in Osogbo.
Abimbola's friends said he was aged 48.
He marked his birthday on February 26 this year.
Abimbola, a graduate of the University of Ibadan, was attached to the State Assembly and had been on the beat for 10 years.
Four others, who died alongside Abimbola were all members of Celestial Church of Christ, Ayetoro, Osogbo.
It was gathered that the entire occupants of the ill-fated 18 seater bus were heading to Imeko headquarters of the church for a retreat.
The driver of the bus was said to have lost control as the brake of the vehicle failed, and then rammed into a stationary Nigerian Bottling Company truck.
Those that sustained injuries in the accident are being treated at State Hospital, Ibadan and Ikire.
Governor Rauf Aregbesola has expressed grief over Abimbola's death.
Aregbesola in a condolence message signed by the Director Bureau of Communication and Strategy, Semiu Okanlawon, in Osogbo on Saturday, said the death of Abimbola has robbed the state-owned media organization of one of its most dependable hands.
Aregbesola said: "This is sudden and tragic. Abimbola has shown himself as a reliable hand in the business of dissemination of information.
"His life was short but was eventful. He has demonstrated capacity for professional excellence but he has come to the end of his journey.
"We console ourselves with the reality that death is a necessary end that must come when it is our time."
The governor urged the entire OSBC family to take the loss with equanimity.
Also, the state council of Nigeria Union of Journalists has declared a seven day mourning for Abimbola.
Biodun Olalere, the Chairman of the union, described Abimbola as a man loved by all through his penchant for peace and hardwork.
Also, the State House of Assembly has described Abimbola's death as a rude shock.
In a statement by the Chairman, House Committee on Information and Strategy, Olatunbosun Oyintiloye, the assembly said his death was like a strange dream.
Abimbola, who attended Oluponna Community High School, in Osogbo, was survived by an aged mother, wife and three children – two boys and a girl.