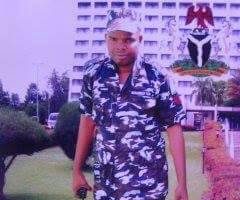 An operative of the Inspector General of Police Intelligence Response Team, Sergeant Tom Mohammed, has been killed in the line of duty.
The Eagle Online learnt that the operative was killed on Thursday in Toto Local Government Area of Nasarawa State during an operation to foil the kidnap of a foreign national.
The operatives were said to have run into an ambush by suspected Fulani kidnappers who were lying in wait in the bush to kidnap a white foreign national that is being driven in a white company pick up van coming their way.
The IRT operatives engaged the kidnappers in a shootout and succeeded in foiling the kidnap and repelling the attackers.
However, after the encounter, Sergeant Mohammed was discovered to be missing in action, leading to a search for him by a combined team of IRT, Federal Special Anti-Robbery Squad in Nasarawa State and the Divisional patrol team in the area.
A search of the forest on Friday led to the discovery of Mohammed's body, ridden with bullet.
This was at about 9am.
Though the foreigner, whose identity was not revealed, and the Mobile policeman with him suffered bullet wounds, they have since been treated and discharged.
One of the kidnappers was arrested with bullet wounds, while serious efforts are on to arrest of the remaining gang members.