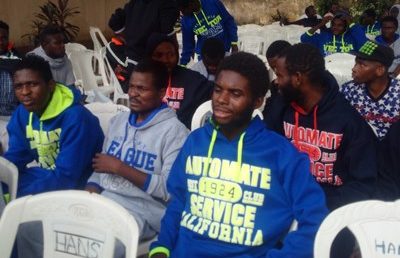 IOM, EU evacuate 134 more Nigerians from Libya
The International Organisation for Migration and the European Union have evacuated 134 more Nigerians from Libya.
Ibrahim Farinloye, the spokesperson for the National Emergency Management Agency, South-West Zone, confirmed the development to the News Agency of Nigeria on Saturday in Lagos.
Farinloye said the new batch of returnees arrived at the Cargo Wing of the Murtala Muhammed International Airport, Lagos on Friday at 10.20pm.
He said the Nigerians returned aboard a BURAQ Airlines Boeing 737-800 aircraft with Registration Number 5A-DMG.
According to him, the returnees comprise 10 adult females, 123 adult males and one infant, including a medical case.
Farinloye said they were also received by officials of the Nigerian Immigration Service, the National Agency for the Prohibition of Trafficking in Persons, Federal Airports Authority of Nigeria and the Police.
Farinloye said their return had brought the number of Nigerians repatriated from Libya in 2017 to 6,806.
He said: "The project of the repatriation is the programme of IOM with the funding for reintegration at the local level provided by EU.
"IOM paid for their accommodation to stay overnight before proceeding to their various destinations."
NAN.