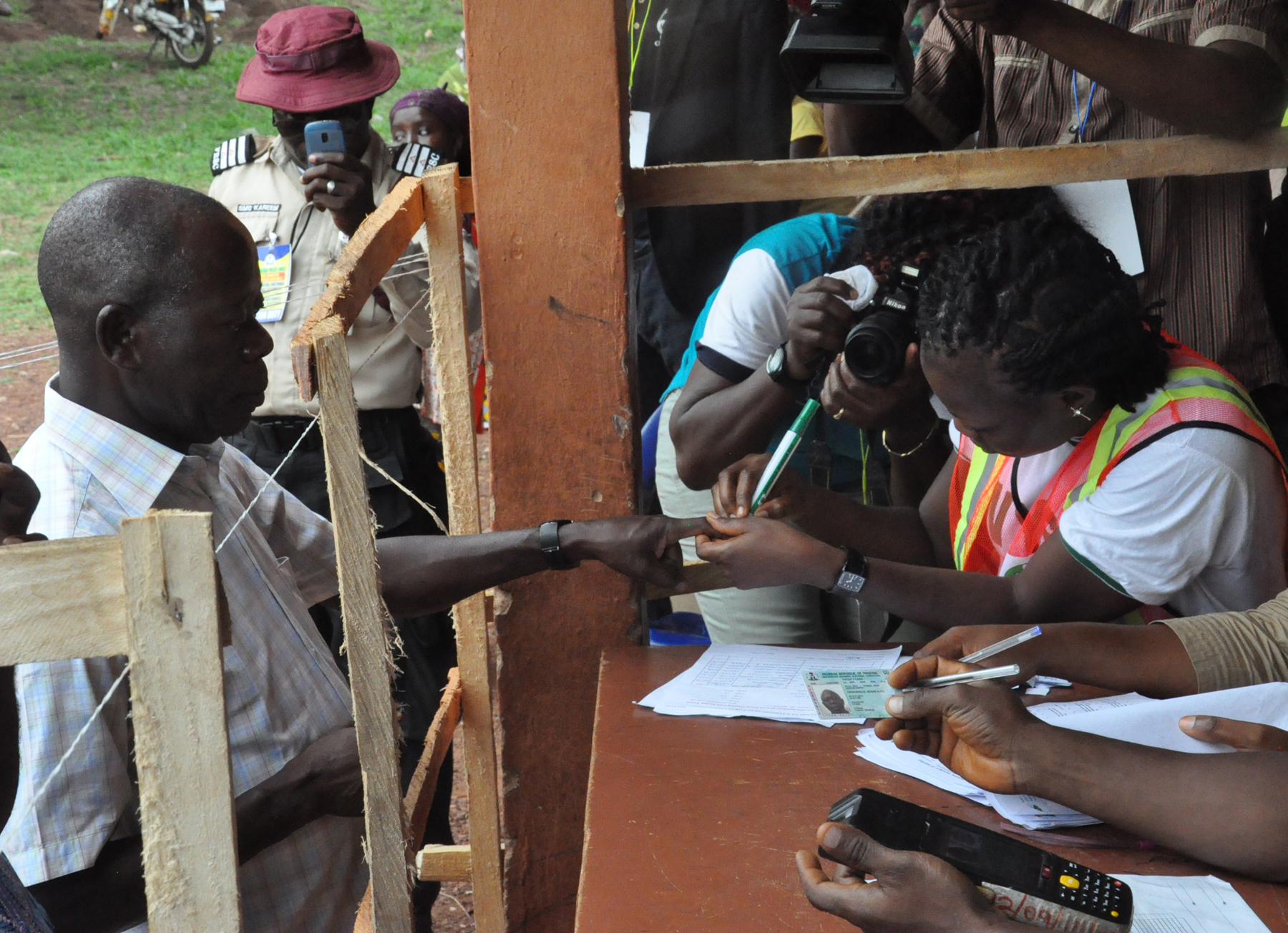 Governor Adams Oshiomhole of Edo State says it is embarrassing that the Independent National Electoral Commission again failed to get its acts right on the use of the card reader.
Speaking shortly after casting his vote at 3:10pm at Unit 1, Ward 10, Iyamho in Etsako West Local Government Area of the state, the governor said INEC should punish some of its staff who deliberately frustrated the exercise.
Oshiomhole also said there was low voters' turnout because of the frustration they experienced with the card readers.
He said: "Here, as you can see, everything is peaceful, orderly and the people came on time and much more importantly the voters conducted themselves like you will find in any civilised environment and I think from the report I'm hearing in many cases that this is the case.
"But I have received reports right now from Esan West, Ward 3 Unit 7 where some PDP thugs have snatched a ballot box seeing that they are losing and carried away some ballot papers and I have forwarded the text to the Resident Electoral Commissioner.
"I have also received reports of ballot box snatching somewhere in Ikpoba Okha again by PDP thugs. This is the only aspect that is worrisome. I think there is also an incident in Okada, but by and large, compared to what we experienced in 2007 where from 5:00am you were hearing gunshots, I think this time it is relatively peaceful
"But I am also somehow embarrassed given that this is the second round of the exercise coming after the presidential election. I am surprised that INEC still can't get it right. In many places; Okpekpe, part of Okpella, part of Esan and even in part of Benin, many places in Orhionwmon we have situations where the card readers were not working. In Owan East up to 2.30pm, the card readers were not working.
"One begins to wonder if people are punished by INEC when they do wrong. It is like some people create this situation in ICT so that by the time you solve them, election that is supposed to end by 6:00pm will end up late into the night and considering that Nigeria is basically in the dark under PDP, you understand why delaying the exercise late into the night is an invitation to anarchy and all kinds of confusion.
"In Orhionwmon, we have a couple of incidents. In a couple of places, the card readers were not working where our candidates come from and as many as 12 to 15 units, they had not started accreditation as late as 1.30pm. This is crazy and all of this leads to one political outcome; you are now going to experience low turnout because many voters after experiencing that delay might simply decide to go home.
"There is an incident where somebody waited, decided to go home, take his car to go and eat and come back and because of the restriction order, he was picked on the way so I think INEC has to sort out the issues. This card reader is not a particularly sophisticated thing that cannot be gotten right and the decision making process is also sluggish. If you find at midday, 4 hours after the appointed time for the start of accreditation that nothing is working, somebody should make a decision immediately but we allow this thing to drag on late into the evening before we begin to now fall back on what to do and by this time most people would have left.
"In Orhionmwon, because of the manipulation during the Presidential election, there are people who are determined to make sure the turnout is low so we find here that some materials meant for Orhionmwon, about 3,000 of them were delivered to Owan and some delivered to Akoko Edo and those for Akoko Edo delivered to Orhionwion and we now begin to move again and all that.
"There must be somebody who gets punished. The fact is that you don't hear people being fired. I was encouraged last week when I heard INEC say that two persons had been sacked but the names of these persons were not published. It is all part of the accountability thing, when people do wrong you punish them, when they do well you reward them. When people do wrong and they are caught in the act, they should be identified and the punishment meted out shouldn't be secret but I think that the problem is that too many people in INEC get away with electoral crimes but this time, we are going to do everything to prosecute those who are culpable otherwise we will spend so much money to put things right then some guys whose faces never feature in the newspapers compromise the huge investment we make in ICT.
"So it is a big challenge and what that is going to lead to, although I hear that the general turnout is low, but as low as it is, the people still get frustrated and are unable to vote. I have also talked to the police to respond promptly and so far the reports I have been getting, they have been working appropriately on the reports they get. However, I have not heard of cases of bias from the Army and the Police this time."