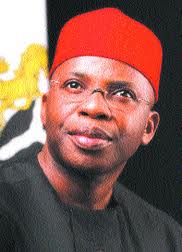 The Imo State Government has condemned the burning of the residential building of former Governor Ikedi Ohakim in Owerri on Wednesday night by unknown persons.
Governor Rochas Okorocha condemned the act in a statement issued by his Senior Special Assistant on Media, Sam Onwuemedo, in Owerri on Thursday.
Okorocha said it was an act of "cowardice, barbaric and unfortunate".
"The attention of the Imo State Government has been drawn to the dastardly and despicable act of setting ablaze, the residential building of the former governor of the state, Chief Ikedi Ohakim, by unknown elements," the statement said.
It said for the former governor's house to be burnt 40 hours to his reported declaration of his intention to run for the 2015 governorship election of the state called for concern.
It noted that the state government had been preaching tolerance and politics without bitterness among Imo State politicians since Chief Rochas Okorocha assumed office in 2011.
The statement said that politicians in the state, irrespective of their parties, had been free to express themselves without any interference or disturbance.
It said journalists in the state had also been enjoying freedom in the exercise of their duties.
The statement added: "So, the burning of the former governor's house for any reason is condemnable and unacceptable.
"The former governor has not done anything to constitute a threat to anybody since he left office to warrant anybody or group of persons to burn his house.
"He has the right as an illustrious son of Imo to vie for any position he desires to run for.
"Anybody who feels threatened by his interest should have the option of quitting the race or dropping his aspiration."
The statement called on the Commissioner of Police in the state and other relevant security agents to investigate the incident with the aim of bringing the perpetrators to book.
It said the government would deal decisively with anybody or group of persons trying to blackmail the government and people or engaging in violent action in the state.
Ohakim's house in Aladinma, Owerri was destroyed on Wednesday and the former governor alleged it was destroyed by an explosion by his political opponents to deter him.
He said: "I think what triggered this action is my intention to make a political statement on Saturday.
"I don't know how they did it but I will leave that for the security agencies to investigate.
"I will still go ahead and make my political statement as planned on Saturday because I refuse to be cowed by this incident."
However, the Police Public Relations Officer in the state, Andrew Enwerem, said there was no evidence of an explosion at the scene.
Enwerem said there was some damage on the building but that it was caused by a fire.