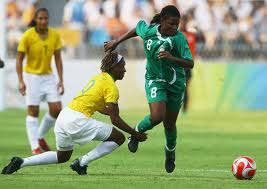 Super Falcons' Head Coach, Mr. Kadiri Ikhana (MON), will on Tuesday unveil his team for the 2012 African Women Championship qualifying fixture against Zimbabwe.
The ceremony, which starts at 1pm at the FIFA Technical Centre, National Stadium, Abuja is the first of its kind.
While the list of Super Eagles' players for important qualifying matches and tournaments have been unveiled at official ceremonies in the past one year, it has never been so for the Super Falcons.
Chairman of the Technical Sub-Committee of the Nigeria Football Federation, Barrister Chris Green, explained: "As a Federation, we have taken a decision that there should no longer be any dichotomy or differentiation. The women's teams are as important as the men's teams.
"Henceforth, we will hold official ceremonies for unveiling of list of Super Falcons' players for important matches and championships as we have been doing for the Super Eagles. The women's teams have brought honour to this country from far and near and they deserve commensurate regard and respect." insisted Green.
Former international player, Ikhana, is expected to name a 22-player list for the African Women Championship qualifier against Zimbabwe in Harare on May 27 and the return leg in Lagos on June 16.
The same team will also play a two-leg friendly against the Senior Women's Team of South Africa, known as Banyana Banyana, with the first leg in Rustenburg on June 3.
The return leg of the friendly with South Africa is also set for the Teslim Balogun Stadium, Lagos on June 23.
The Super Falcons are expected to fly out of Abuja to Harare on Wednesday.