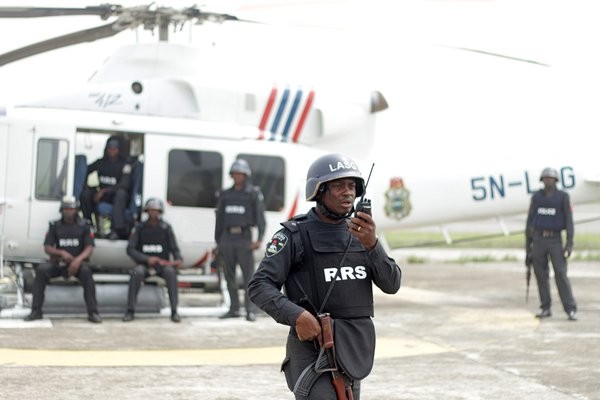 The efficacy of the three helicopters of the Rapid Response Squad purchased by the present administration of Governor Akinwunmi Ambode came to fore on Wednesday as it aided in the location and rescue of a helicopter with registration number N5BQJ belonging to Bristow Group, which crashed in Lagos waters.
The RRS helicopters are part of the security equipment purchased at a cost of N4.7 billion by the Ambode administration with the aim of beefing up security as well as aid in emergency rescue operations.
The Commander of the RRS, Olatunji Disu, said immediately the command was alerted of the crash on Wednesday morning, the three helicopters were immediately deployed to commence a search for its possible location.
Disu said: "We knew they just took off at the airport.
"Everybody thought the helicopter crashed in their air field.
"But we immediately deployed the three RRS helicopters into the air and started the search.
"After some time, the crashed helicopter was located 68 nautical miles out of Lagos on the ocean and we were able to communicate with the company."
Disu said Shell, Agip and Mobil oil companies provided speed boats, while the RRS Marine Boat was also deployed to join the search and rescue operations.
He said: "LASEMA, Airport Police and others and the Fire Service were at the airport waiting because they had thought that the crash occurred at the airport, but the RRS helicopters acting on information hovered around the air until the location of the crash was identified in the ocean."
Disu said all the 11 persons on board the crashed helicopter, made up of nine passengers and the two crew members, were rescued alive.
He attributed this to the adherence of safety measures by the passengers and the timely intervention of rescue operations.
He said: "The joint effort of the rescue team spearheaded by the RRS in collaboration with Shell, Agip and Mobil oil companies went a long way to save the lives of those on board.
"Only the pilot sustained injuries."
Since the handing over of the equipment in November last year, the RRS helicopters have been deployed to various crime and traffic scene, which has aided in effective surveillance and aerial patrol.