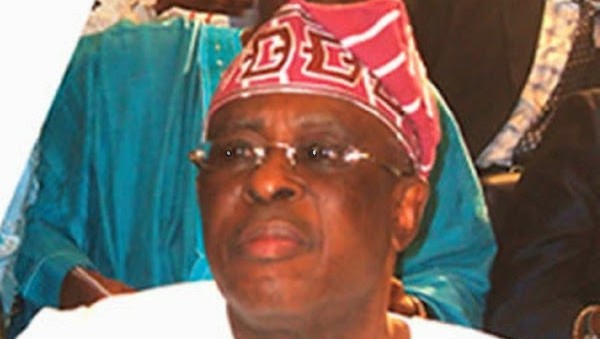 A leader of the All Progressives Congress and former Governor of Ogun State, Aremo Olusegun Osoba, has said he regretted working for the emergence of the Ogun State Governor, Ibikunle Amosun, in 2011.
Osoba said this on Friday when he addressed leaders of the Ogun State chapter of the Nigeria Labour Congress during a visit of the governorship candidate of the APC in the state, Dapo Abiodun, to the secretariat of the union in Abeokuta, the state capital.
Osoba said he was proud to say that he spent all the money that he had to make Amosun governor in 2011 on the platform of the Action Congress.
He said: "I spent all the money that I had on me to make him governor.
"He requested for four commissioner nominees from me and I took the list to him in his office.
"Thank God Leke Adewolu (former Commissioner for Special Duties), was on seat that day.
"The only regret I had was that I gave him the list containing the four names and he tore it in my presence.
"He then asked me to write a fresh one and bring it to him.
"I looked stupid.
"That was my only regret."
Osoba expressed optimism that Abiodun would succeed Amosun, telling their guests he is standing as a guarantor for him before the NLC that he would not maltreat workers in the state if elected into office.
He said: "We will set up a committee that will comprise those who have served in various capacities in the state government, look at the monthly internal generated revenue, how much are being owed and other things.
"So, we will engage you, labour unions, so that when Abiodun is sworn in on May 29, he would have the record and hit the ground running."