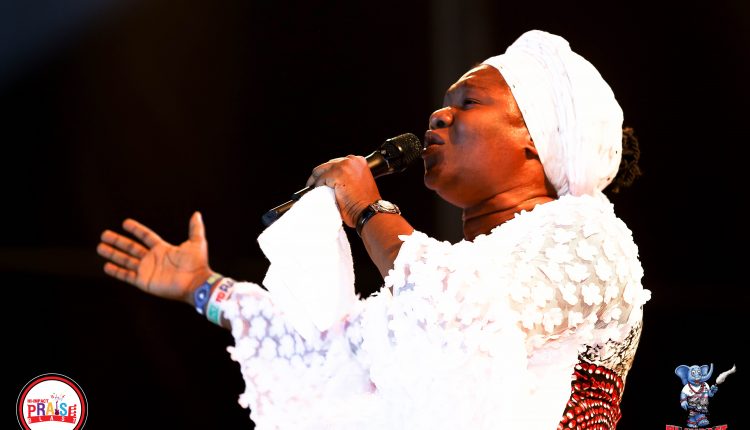 Hi-Impact Planet 2017 Praise Blast: A night of awesome praise
Earlier during a parley with newsmen in the last week of November 2017 to announce a "12 days of Magic", where he promised events that will make "Nigerians stay here for entertainment and holidays and avoid going to Europe or America that are always very cold in winter", not many of the pressmen around thought the Chairman of Hi-Impact Amusement Park and Resort, Prince Adeyanju Lipede, could mean every word he said, especially when the oldest of the events slated for the 12 days of Magic: the Praise Blast, is only two years old, whilst the second one, Shutdown 2017, is just making its debut
What hits you first as you are ushered into the Hi-Impact Arena after being frisked by the men of the Nigeria Police anti-bomb squad is the massive stage. Said to be about 44 metres in length with the outriggers on which also is hung two large screens on each side, the stage is about 14 metres high and is also said to be the biggest in Africa. It houses about 300 robotic headlights and suitable for any form of events. There is tendency to assume that one is in for a "Grammy Award Night"
Earlier during a parley with newsmen in the last week of November 2017 to announce a "12 days of Magic", where he promised events that will make "Nigerians stay here for entertainment and holidays and avoid going to Europe or America that are always very cold in winter", not many of the pressmen around thought the Chairman of Hi-Impact Amusement Park and Resort, Prince Adeyanju Lipede, could mean every word he said, especially when the oldest of the events slated for the 12 days of Magic: the Praise Blast, is only two years old, whilst the second one, Shutdown 2017, is just making its debut.
But like little drops of water that turn out to make a mighty ocean, couples, with their kids, friends and groups in trickles started to gather on the second day of Christmas at the 20,000 capacity crowd HIP Arena located right at the back of the Amusement Park for the Praise Blast.
Setting the tone about 7pm was the Redeemed Christian Church of God Praise Team, with their ministration to the admiration of the almost jam packed Arena. It was just a perfect way to start an event designed to praise and appreciate God for His protection all year round.
Then enter the Lagos born Bukunola Bekes, who has been variously described as an exceptional Singer. She has at one time led the Redeemed Christian Church of God Mass Choir and composed most of the theme songs for Redeemed Special Holy Ghost Services, Conventions and Holy Ghost Congresses.
She is a composer, writer, praise and worship leader and a consummated singer whose stage performances always captivate her audience. No wonder then that she requested to break protocol by asking all youths to move close to the stage area well beyond the perimeter wall. And like an exodus, the youth from different corners of the Arena surge forward but the ever ready security personnel put in place were able to control the crowd who seem to be so happy to dance to the so many popular tunes like "Gbangba gbangba", "Olorun Agbaye" and many other ones in Ibo and Hausa languages being churned out by Bukunola.
Fondly called Olorikokoro (Master Key) by most Redeemed members, Bukunola was later to describe the event as a world class. "I have been to so many concerts and this is like the first all time Gospel Concert. With what I see tonight in terms of crowd, the stage, the lightning and the general atmosphere here, circular music can no longer push us aside and I have no doubt that next year's event will be awesome as these unprecedented crowd will go back to relate this wonderful experience," she said.
Then the Lagos City Choral held the audience spell bound with soul inspiring praise worship songs before Bukola Akinwande, popularly known as Senwele Jesu, mounted the stage.
With her popular hit songs like "Ero ba mi yin", "Ko ni ja se mo", "Eje njijo ope", "Omo kekere e yin baba" and many more, it was all dances and singing galore for the night of praise.
The popular TREM Choir heralded the coming of Bishop Mike Okonkwo, who is the General Overseer of The Redeemed Evangelical Mission, for the word of exaltation that night.
This was also followed by yet another popular group, the Daystar Christian Centre, which goes by the name: Healing Streams of God, who with their sonorous voice rendered such popular hit praise and soul inspiring songs "Elu agogo", "swinejiro", "Keresimesi odun de" among so many others before capping it with "Gospel Fuji."
Other notable gospel artistes that performed on this massive stage that night included Ayan Jesu, Baba Erujeje, Yetunde Are, international award winning Vashawn Mitchelle, Chioma Jesus, Kaduna State born Tim Godfrey and lastly Tope Alabi who mounted the stage at about 4.30am and took the ecstatic crowd till about 6am. It will be an understatement to say that Tope was at her best. The ecstatic crowd who have been dancing for like 10 hours look so refreshing as they danced and sang along the multi-talented artiste.
Speaking after the show, Prince Lipede, who could not hide his joy on the success of the 2017 Praise night said the massive crowd that thronged this event shows that Nigerians are grateful even for the gift of life. One other striking aspect of the well-arranged event is the provision of free busses that convey people to and the venue to both Lagos and other major towns around the Park. He commended everybody for a proper conduct which gave the security men put in place almost nothing to worry about. While giving kudos to the police anti-bomb squad, men of Nigerian Security and Civil Defence Corps and Department of State Service, he promised that the third edition will surely be bigger and better.
Narrating her experience after the show, Busayo Oyegunle, who came in with her three children, was full of praises for the organizers. She said security arrangements, provision of conveniences as well as transportation to and from make the event very unique. "It was indeed a night of awesome Praise and I pray I don't miss the next one," she said.