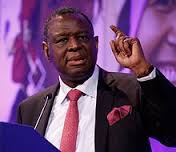 The Federal Ministry of Health has organized an hour tribute in honor of the late Prof. Babatunde Osotimehin, who died on June 4, 2017 in New York, USA.
The event, which held at Shehu Musa Yaradua Center on Friday in Abuja, witnessed the presence of former Health Ministers and other top government officials in the health sector and private organizations
Among the dignitaries that spoke eloquently about the life and contribution of late Prof. Osotimehin in the development of the health sector were Dr. Saudatu Umma Yaradua, Health Specialist, World Bank; Dr. Mike Ogirima, President, Nigeria Medical Association; Prof. Bunmi Olao-Olapade, Provost, Collage of Medicine University of Ibadan; and Dr. Aliyu Sani, Director General National Agency for the Control of AIDs.
Others included Prof. Eyitayo Lambo, former Minister of Health; Dr. Aliyu Idi Hong, former Minister of State for Health; Linus Awute former Permanent Secretary, Federal Ministry of Health; Zouera Youssoufou, CEO, Dangote Foundation; and Dr. Hajo Sani, Special Adviser to the President.
Serving Ministers who expressed their sadness over the death of Osotimehin during the ceremony were Dr. Kayode Feyemi, Minister of Solid Minerals; Dr. Osagie Ehanire, Minister of State for Health; and Prof. Isaac Adewole, Minister of Health and convener of the ceremony.
Adewole described Osotimehin as a humble, committed Nigerian that his exemplified leadership would never be forgotten.
He added that Prof. Osotimehin will remain a teacher for life
The Permanent Secretary Federal Ministry of Health, Binta Adamu-Bello, condoled with the family of Osotimehin and prayed for God to give the family the ability to bear the irreparable lose.
Osotimehin was a Director, National Agency for the Control of AIDs, who later became Minister of Health.
He was appointed the Executive Director United Nations Population Fund in November 2010, a position he held until he died.