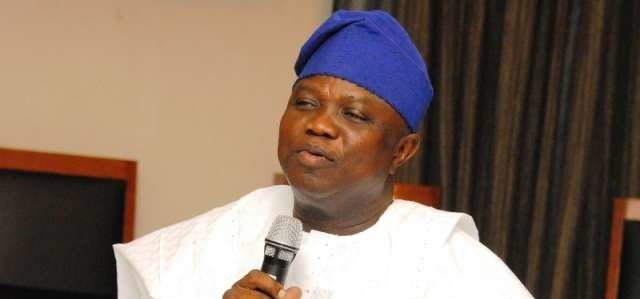 Lagos State Governor, Akinwunmi Ambode, on Wednesday said reports of him having a rift with national leader of All Progressives Congress, Senator Bola Tinubu, were untrue.
Governor Ambode made the clarification in a statement signed by his Chief Press Secretary, Habib Aruna in Lagos.
Both the social and traditional media have been awash with news of a major rift between Tinubu and Ambode over alleged disagreement on the second term bid of the governor.
Aruna quoted Ambode as telling party faithful in Epe during the election of delegates for the Presidential primary election and national convention of the party that the reports indicating a fight between him and Tinubu were out of place, and there was no fight anywhere.
He said: "I want you to know that there is no fight anywhere. The National Leader, Asiwaju Bola Ahmed Tinubu and my good self we are not in any fight, we are not in any controversy.
"We are praying to God that the best is yet to come and the best will be what Lagos State deserves and I want you to just continue with your prayers that at this time, God will show His hand and make sure that everything that is of blessing to Lagos State and also blessing of Epe will come to pass."
The governor commended leaders and party faithful who contributed to the success of the delegates' election in Epe, saying APC remained the party to beat in Lagos and Nigeria.
Ambode said: "We have just concluded our Delegates' Election in Epe Local Government and by consensus, we have picked our three delegates that will be going to the National Convention come October 6 for the Presidential direct primaries and the convention for all other people.
"I want to say a very big thank you to all our delegates that are present here; I want to say a big thank you to all our leaders that have also supported us to make sure that this event has come and is done very successfully.
"I want to reiterate once again that our party, All Progressives Congress remains the party to beat; we are the party at the national level and we are going to remain the party in the State."
According to the statement, the event was held at APC's Secretariat in Aiyetoro, Epe, with three national delegates from Epe Division — Alhaji Shakiru Seriki (Bamu), Otunba Bode Alausa and Olayinka Oladunjoye, the State' Commissioner for Commerce, Industry and Cooperatives, elected.
The division comprises one Local Government Area (Epe) and two Local Council Development Areas (Eredo and Ikosi-Ejirin).
The party leaders and faithful in the division, according to the statement, also took turn to affirm their support for the second term bid of the governor.
Those listed include: the Chairman of Epe Local Government, Adedoyin Adesanya; Chairman of Eredo LCDA, Saliu Adeniyi; Chairman of Ikosi-Ejirin LCDA, Samson Onanuga and party chairman in Epe Local Government, Otunba Kehinde Adeniyi.
Also included are: State Welfare Officer, Alhaja Abiodun Bankole; former member of House of Representatives representing Epe, Hon Bola Gbabijo and member of Lagos State House of Assembly representing Epe Constituency II, Segun Olulade.
APC Women leader in Epe, Iyabo Adegboyega; LGA party secretary, Alhaji S.A Owolomose; youth leader, Abdul Ibrahim; Otunba Bode Alausa, Akin Oladipupo, among others, were also listed among the party faithful at the event.