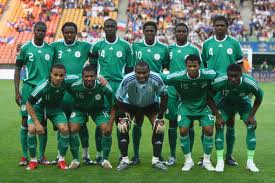 Nigeria continued her slide in the monthly FIFA/Coca Cola raking in the April chart released on Wednesday by the world soccer ruling body.
Nigeria moved from her 57th position in March to 60th spot in the world.
The failure of the Super Eagles to engage in any high profile game in the last one month might have ensured Nigeria's slide in the latest ranking.
Spain retained her number one spot in the world while Cote d' ivoire is the best African ranked nation and 15th in the world.
Twenty-four matches were taken into account for the April edition of the FIFA/Coca-Cola World Ranking, three-quarters of which were played at the AFC Challenge Cup.
Asian representatives Turkmenistan (142nd, up 24) and Korea DPR (86th, up 25) were the month's strongest teams, each topping their group and sailing through to the final of the AFC Challenge Cup unbeaten. Thanks to a late goal in the 87th minute, the North Koreans triumphed 2-1 and are thus through to the AFC Asian Cup 2015 in Australia.
In the leading pack, the Netherlands (4th, down 2) slipped out of the top three for the first time since June 2010. Climbers Germany (2nd, up 1) and Uruguay (3rd, up 1) are now the closest challengers to leaders Spain (1st, unchanged). The third-place ranking of La Celeste is the country's highest ever in its long and successful football history.
Denmark (9th, up 2) are back in the top 10 after an absence of one month, the Danish Dynamite's highest position since August 1997, while Romania (45th, up 8), Libya (46th, up 9), Scotland (48th, up 3) and El Salvador (49th, up 9) have all made it into the top 50.
Alongside Libya and El Salvador, the Philippines (148th, up 8) have achieved their highest-ever position since the introduction of the global ladder, thanks to their excellent performance at the AFC Challenge Cup, where they finished third.