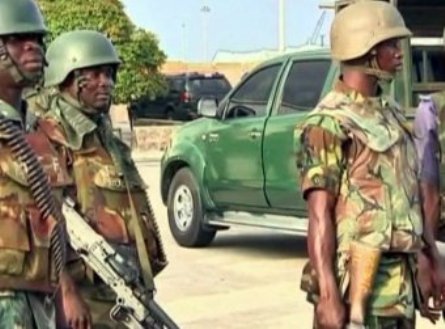 The Special Task Force maintaining peace in Plateau State has cordoned off Kadunung village in Mangu Local Government Area, which came under attack by unknown gunmen on Wednesday morning.
"We (STF) got the report around 2am and we have cordoned off the area to restore law and order," the STF spokesman, Captain Ikedichi Iweha, told the News Agency of Nigeria in Jos on Wednesday.
Iweha did not give further details, especially on the number of casualties.
But the Chairman of Mangu Local Government Area, Titus Bise, told NAN that 17 victims of the incident had been buried in Gindiri.
Bise said: There is tension in the area, but we have continued to call for calm.
"More than 300 hundred people have been displaced.
"Some of the displaced persons are currently taking refuge at the Government Secondary School, Bwalbang, while others have fled to Langa village.
"Many others have fled to Boto and Lere villages in Bauchi State."
On his part, the Sum Phem and paramount ruler of Gindiri, Chief Charles Matoh, said: "Many people were killed.
"Among those killed was a man and his six children.
"Aside the killings, many houses were burnt."
Matoh said soldiers had taken over the entire village and would not allow anyone to go in or out.
The Divisional Police Officer of Mangu, A. Williams, confirmed the incident, but said the casualty figure was still not certain.
Emmanuel Abu, the spokesman of the Plateau State Police Command, also declined to give details on the casualty figures.
"We (police) are still gathering facts, but the area has been cordoned off," Abu said.
The Plateau State Emergency Management Agency Executive Secretary, Alhassan Barde, on his part said the agency was still gathering information before deciding on the next line of action.
Barde said: "For now, the only thing I know is that people have been killed and many others displaced.
"It is still risky to go there.
"So my people are still studying the situation before working on how to assist those thrown off by the violence."
The Coordinator of the National Emergency Management Agency in the North-Central, Malam Abdulsalam Mohammed, said the incident had been reported to his office, but his officers were yet to go there.
Mohammed said: "It is a security matter.
"We cannot get there till we are sure that our people are safe.
"But we have been told that houses were burnt and people killed.
"So we are waiting for further details.
NAN.