When he emerged the overall winner at the 2013 MTN Young Designer Competition at the Lagos Fashion and Design Week, many wondered what 26-year-old Emeka Rodney had up his sleeves.
Ready to break new grounds within the fashion industry, PAM JENNY follows the story of the young man who owns Mcmeka Meanswear.
It was just a once-in-a-life time opportunity. Therefore he decided to seize the moment. For 26-year-old Emeka Igwedinma Rodney, entering for the 2013 MTN Young Designer Competition at the Lagos Fashion and Design Week would alter his life for good. Coming against contestants such as Waneami, Diana aLa Vid, Ayo Van Elmar, Reni Smith, Ladunni Lambo, Sho by Adesola Obebe, Tumilla by Tumi Ladega, Kenneth Ize and Siaiano, the Port-Harcourt, Rivers State bred designer came out tops.
When asked how he developed his talent, Rodney quipped: "My dad is a retired civil servant while my mom is a tailor and we are a happy lot. I guess my flair for fashion and style stemmed from that point. My mom is a tailor and she always put us through tailoring when we were young. Although back then, I was a bit stubborn and didn't find the experience pleasurable, but she insisted that we all learnt the art. It was as if she knew what was coming ahead in the future."
Growing in up in Port-Harcourt, Rivers State, Rodney attended the Township Primary School, Oyibo before he proceeded to Government Secondary School. He added: "I later went to Ladoke Akintola University of Technology, Ogbomoso, Oyo State where I was studying Biochemistry. But when I developed my talent as a fashion designer, I had to leave to nurture my creative abilities as a fashion designer. Although I spent many years at LAUTECH, I think it was a wise choice moving to UNILAG because it exposed me to a lot of things. I started my career in 2011 after leaving LAUTECH while studying a science based course and was forced to begin my university education afresh in Lagos, having gained admission to study Accounting. Interestingly, as a kid, I had enjoyed art based classes but due to family pressure, I went through school as a science student. My decision to transit to Accountancy was based on my belief that the course would provide the best platform to fulfil my vision as a fashion designer. And it wasn't hard to switch because I already had a combination of science and arts courses in my O'Level."
During the competition, one would have expected that it would be an onerous task for the young man to compete with designers who had trained abroad. On the contrary, he says that he is of the firm belief that a person's background shouldn't be a limitation to pursuing set goals.
His words: "It's all about what's inside of you so I think that was what paved the way for me. During the auditions, I saw a lot of guys come in with swag and I was challenged, amazed at some of the designs but I wasn't intimidated. Yea, they came armed with fashion degrees from Paris, UK, Vienna but they didn't move me. When I showed my brother what I was up against, we were just laughing. It was like a David and Goliath situation. Most of my friends just wished me all the best. When I made the top 10 shortlist, my close friends told me that they won't shout or celebrate with me and that they only time they would rejoice is when I am crowned winner. This is the extent of belief and confidence which my close pals had in me. This kept me going. I had no fashion qualifications, whether local or international but I believed in my work."
The young designer added that he had no inkling that he would win. As part of his preparation, every month or at least once in two weeks, he tried to go through the some of the collections from the last edition of the MTN Young Designer's competition at the LFDW. Rodney meticulously studied the collections from Josh, last year's winner, and also studied the show generally, trying to gauge the perception of people about their fashion choices and needs. It was a journey that took him a year and eventually, a winner.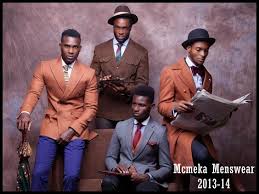 So what was the very first piece that he made? Smirking with smile, Rodney recalls that it was a chinos pants, which he made with a fabric he bought at Yaba Market. He worked with wool on a very rich and expensive fabric, which he says is good for men.
He said: "Even with the climatic conditioning of Nigeria, there are shades of wool that fit our weather patterns. It all depends on the personality and the purpose. I have my own signature. My suits are always straight. If you check out my shirts, I don't have these slanting cuts. I keep the cuts straight and this is the key differentiation for my brand".
With a prize money of N4 million from MTN, Rodney says that he would use the money to push the McMeka Brand to greater height. "That is my dream," he submitted.
Advertisement