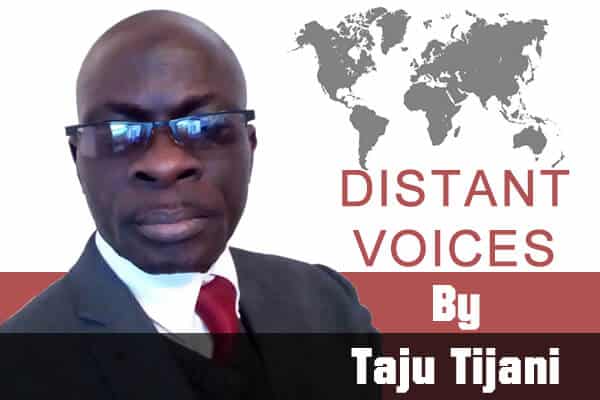 One important glue holds these three gentlemen together. There is also a common denominator among these three eminent Nigerians. Believe it or not, these three Nigerians are opulently rich. Their wealth will make the devil blanch with envy. And because money answers to all things in Nigeria, it is therefore inevitable that when these metropolitan elites sneeze, the all Nigerians catch cold. We accept or disown these three gentlemen through the lens of our perception. And also because we are Nigerians, we may embrace or reject through tribal binocular.
Last week, General T. Y. Danjuma took on the role of a despairing wailer and evocatively warned Nigerians of the coming darkness that may consume us before the shining dawn. The sense and nonsense of his speech has been drawn out by both condemnation and the triumph of free speech. Who is General Danjuma? He once famously said that he had so much money and that he did not know what to do with it. His directorship and chairmanship of many companies in Nigeria is oceanic in depth. As a soldier, he killed General Johnson Aguiyi-Ironsi, the former Nigerian leader, and Adekunle Fajuyi, his bodyguard, in cold blood.
This historical heist is important. It points to his valour, courage and love for bloodlust. Today, Danjuma has spilled a civil blood and purveyors of decency are up in arms against his call on Nigerians to arm themselves against the seeming breakdown of security of lives and property in Nigeria. Danjuma's more volatile statement was that the Nigerian military and other security forces are in collusion with both Boko Haram and armed cattle herdsmen.
"The armed forces are not neutral," General Danjuma said at the maiden convocation of the Taraba State University in Jalingo, the state capital, on Saturday afternoon. "They collude with the armed bandits to kill people, kill Nigerians." Further, the 79-year-old civil war veteran said the security forces, rather than protect the people, "facilitate" the movement of armed attackers and often provide cover for them.
Then the bombshell: "If you wait for the armed force to stop the killing, you all die one-by-one. The ethnic cleansing must stop in Taraba State and other parts of Nigeria. Otherwise, Somalia will be a child's place. I urge all of you to be at alert and defend your country, defend your territory and defend your state."
Yes, we may call his speech banal, vile, treasonable and dangerous. What is at play is the fact that Danjuma is hurt over the senseless killings that seems to defy federal solutions. The slow and steady descent of Nigeria into Hobbesian jungle is enough to cause social dilemma even among the rank of diehard Buharists. His weepy calibration of doom and anarchy is not the stuff of Nigerian elites. That tedious language of rebellion is the province of the marginalised Nigerians and not for an over-pampered, overfed, over-rich and over-protected soldier like him.
Senator Dino Melaye occupies a space in our National Assembly that is opaque and primitive. Among trouble makers, he is a chief priest. He lives on a daily diet of colliding paradigm that veers between infamy and psychiatric disorder. After divorcing himself from the fringe of pedestrian activism, from where he got his baptism of fire, Kogi State honoured their famous and fiery son and send him to Abuja to orate and bring back the dividend of democracy. Today, the nasty nexus of politics and corruption has made Melaye a billionaire. He is a lying, flamboyant, arrogant, opulent and playboy-politician Nigeria has ever known. His car garage has the richest stockpile of the most expensive cars on earth – Range Rover, Porsche, Ferrari, Lamborghini, BMW, Mercedes Benz and SUVs of all kinds.
Melaye famously boasted of a degree from Harvard. It turned out to be a sandwich course. The beginning of white lies. With Melaye, the character and high expectation from our politician has declined miserably. Thug life is fast becoming one of his new attributes. There is an ongoing and brutalising war between this senator and Yahaya Bello, the Governor of Kogi State. We are waiting for who will be martyred in this war. Before the political crucifixion, Senator Melaye has to fight down accusations on many fronts. The Nigerian Police has accused Melaye of gun running and arming thugs to carry out assassinations. His constituency is bent on recalling him. They have had enough of his bohemian and bolekaja politics. Melaye's time in our hallowed chamber is bedevilled with sordid melodrama and the nation is waiting with baited breadth to see if April recall will be the end of a scoundrel politician who has his soul tie with Senator Bukola Saraki the man known to be the craftiest snake in that corrupt assembly.
Ah, that 10th Colloquium staged in Lagos State for the National Leader of the All Progressives Congress. The Jagaban of Borgu, the lion of Bourdillon and Asiwaju of Lagos, Ahmed Bola Tinubu, at 66 is having a whale of a time. Tinubu is a famous conciliator and his genius for bridge building is legendary. Picture never lies.
There is no honour more honourable for any politician than to have the president of your country as guest at your own party. Aside from the presence of President Muhammadu Buhari at the colloquium, there are other political influencers, strategist and theorists on ground to pay a deserved homage to a political titan who bestrides our landscape like a colossus. Yes, Tinubu called for good governance and the rejection of recent apology from the PDP for the rapacious and feral manner the treasury was looted and Nigeria bankrupted. However, Buhari's agenda in his Lagos visit was to woo the wearied Yoruba all over again through Tinubu to his wobbly administration that has thoroughly marginalised this very powerful tribe.
The Yoruba should stand their ground and make a shift from being seen as the proverbial spoilers in Nigerian politics. Buhari, in eulogising the long virtues of Tinubu said, "We seek to replace corruption with correctness, insecurity with safety and poverty with prosperity." In close to three years of his governance, Nigeria has remained a graveyard of APC's grand political ideas. In those years, the Jagaban was side-lined, those who looted Nigeria blind still walk around as free citizens, the poor Nigerians on whose back Buhari rode to power are today worse off under an administration that was supposed to bring a radical change in the political, social and economic lives of all Nigerians. Happy birthday, the lion, the Jagaban and the Asiwaju.
. tajutijani@hotmail.com, www.ttsoundings.com, +447424701166.