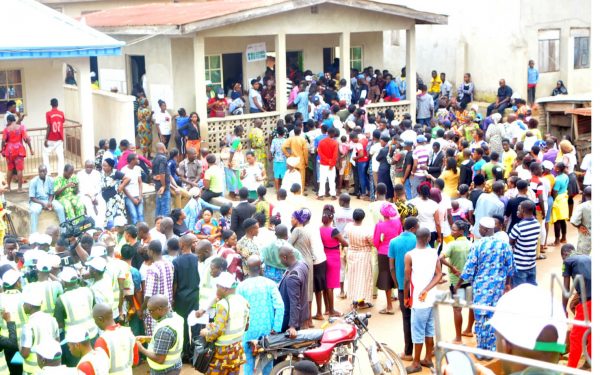 The All Progressive Congress governorship candidate in the ongoing election in Ekiti State, Dr. Kayode Fayemi, has commended the electorate in Ekiti for their impressive turnout and conduct.
Fayemi made the commendation after casting his ballot in his Unit 009, Ogilolo Ward 11, Isan-Ekiti, Oye Local Government Area at about 10.28am.
But his wife, Bisi, who accompanied him to the polling station, could not vote as the Card Reader could not accredit her.
Although the electoral officials found her name on the voter register, the card reader did not recognise her voter card.
Assessing the electoral process, however, Fayemi said: "This is the day the Lord has made and we are glad in it. I have just voted in my Unit.
"The voting process is relatively smooth.
"My card was recognized.
"I was accredited and I went to cast my ballot.
"You can see the turn out in my community.
"It is huge.
"This is not a big community, but almost everyone is out to cast his vote.
"They ensure that they conduct themselves in a proper manner and not being disenfranchised."
Fayemi, however, said reports he got from his representatives revealed that though the exercise was peaceful in most places, there were also reports of skirmishes in some places and Card Reader issues.
He said: "I have heard reports across the state from my agents, from our leaders.
"We have skirmishes, Card Reader issues, but also there has been relative calm in most places.
"It is too early to judge now.
"It is too early to give a final and full verdict on how the process on the ground out there in state is.
"I will plead with you, the media, to allow me some time to get more reports from the field before I give you a definitive statement about the process."
The News Agency of Nigeria reports that large number of voters queued up to cast their ballots at the polling units in the ward.
The INEC voting list pasted in Unit 009 bore 345 names of eligible voters, including those of Fayemi and his wife.