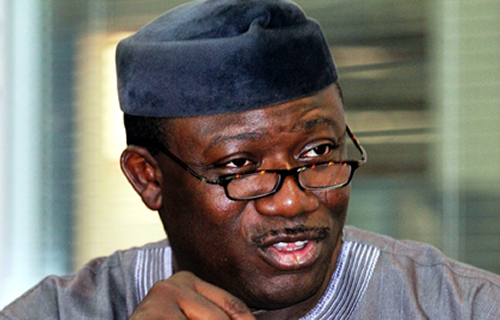 The Office of the Ekiti State Governor-elect, Dr. Kayode Fayemi, has hailed the candidate of the Peoples Democratic Party in the July 14, 2018 governorship election, Prof. Kolapo Olusola Eleka, for resorting to the law in the resolution of the dispute arising from the election that returned the All Progressives Congress candidate as the winner.
A statement by the Director of Media and Publicity of the Fayemi Campaign, Wole Olujobi, said the action was a welcome development to strengthen democratic practice.
The statement said it is a constitutional right of the petitioner as enshrined in the Electoral Act to do so.
https://theeagleonline.com.ng/ekiti-election-a-few-words-by-reuben-abati/
The statement said: "Even though it is the petitioner's right to seek legal redress in his complaint, it is a fact that the July 14 governorship election that returned Dr Kayode Fayemi is one of the best elections conducted by INEC in this country in which the will of the people was freely expressed through the ballot box.
"For this reason, Fayemi won one of the best, freest and fairest elections in NigerIa as attested to by the elite election monitoring group, Transition Monitoring Group (TMG), which rattled Governor Ayodele Fayose, who thereafter assembled fake observers group populated by PDP members who tried to discredit the exercise.
"We won the election in a very free and fair manner and we have no doubt that the tribunal will find this to be the case too in their final judgement.
"Judgment on the petition will be in accordance to the law and not to the terms of the petitioner, and so Eleka cannot be a judge in this case as he sought to do in his petition.
"Now that he has filed his petition, he should leave the tribunal to decide if he won or not and not to prejudge, as the petitioner tried to do in his complaint to the tribunal."
Noting that Eleka's allegations of arrests by security agents, ballot box snatching and results falsification should be left for the tribunal, the statement faulted another claim that APC members and Ekiti State people in general did not celebrate Fayemi's victory.
It said: "Immediately results started trickling in, almost all towns and communities erupted in jubilation.
"In Ikere-Ekiti country home of the PDP candidate, there was blaring of horns and trumpets while all relaxation points were jam-packed by a deluge of revellers celebrating their freedom from a callous and greedy administration of PDP that reversed all the fortunes recorded by Fayemi's administration between 2010 and 2014.
"Second day after Fayemi was officially declared winner by INEC (Independent National Electoral Commission), the whole stretch of Ado-Ekiti major road from Fajuyi area of the state capital to Ajilosun office of APC was jam-packed by thousands of Ekiti people, even in an unceasing heavy downpour, to celebrate Fayemi's victory and so we wonder where Eleka got his information that Ekiti people did not celebrate Fayemi's victory."
Olujobi also carpeted Eleka for complaining that the closure of Ekiti State radio was part of measures to rig the election.
He said: "It is baffling that Eleka, who conspired with Fayose to commit treason by illegally seizing a radio station to criminally announce fake result, still had the temerity to complain that the closure of the station is part of measures to rig the election."