Former National Chairman of the All Progressives Congress, Adams Oshiomhole, has become the source of jokes on the social media.
This followed the loss of the APC to the Peoples Democratic Party in Saturday's governorship election in Edo State, where his anointed candidate or the governorship seat, Pastor Osagie Ize-Iyamu, lost.
The incumbent and candidate of the PDP, Godwin Osagie, defeated Ize-Iyamu, the favoured candidate of the former governor of Edo State.
The Independent National Electoral Commission declared Obaseki as having won the election when he polled a total of 307,955 votes to defeat Ize-Iyamu, who scored 223,619.
A total of 14 candidates participated in the contest, with 557,443 accredited voters and total valid votes votes as 537,407.
The rejected votes were 12,835 and the total number of votes cast was 550,242.
Obaseki won in 13 of the 18 Local Governments Areas of the state, namely: Orhionmwon, Igueben, Owan West , Oredo, Ikpoba-Okha, Esan West, Esan Central, Esan South East, Esan North East, Uhumwode, Egor, Ovia North East and Ovia South West.
Once it was clear in the early hours of Saturday that the APC was going to lose, Oshiomhole, who had thrown everything he had into the fight, became the butt of jokes, with several of his old videos, where he had eulogised Ize-Iyamu and discredited Obaseki, resurfacing.
So also did caricatures depicting him crying or looking sad emerge.
In one of the caricatures, Oshimhole was advertised for sale, with the headline: "Fairly used chairman for sale."
In another, a photograph of his was touched to depict him crying.
On Twitter, it was a fun day as all sorts of comments surfaced.
Here are some of them: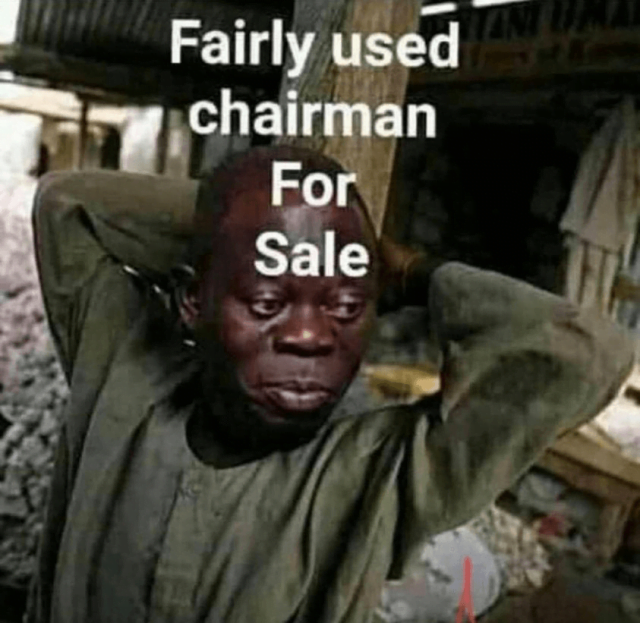 Gov. Samuel Adédìran Àlàdé @adediran_alade: Edo has always been a PDP state,  Oshiomhole was given a fair trial because he was loved.  Since 1999 every Presidential election in Edo state has always gone to the PDP. Oshiomole wanting to turn  himself into a demi god angered the people and they revolted with PVC.
Dr. Dípò Awójídé @OgbeniDipo: Adams Oshiomhole, a man who fought Obasanjo for many years as leader of the NLC got into politics, got powerful, then, became power drunk. Lost his seat as National Chairman in trying to be a godfather, now his candidate has lost out too. He remains one of the biggest losers here.
PDP Vanguard @PDPVanguard: BREAKING NEWS: Oshiomhole collapses as APC suffers defeat in Edo guber poll.