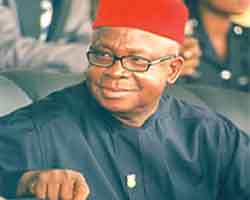 Magnus Eze
The creation of Ebonyi State was a dream, come true because before October 1, 1996, the people of the present day Ebonyi State were confined to the back waters of neglect, under development and despair. The journey indeed started from old Imo State, for the Afikpo zone and old Anambra State for the Abakaliki zone; then the people were criminally marginalised and neglected. In terms of infrastructural and human capital development, they were always relegated, to the background. Then came October 1, 1996, when the yoke was taken away from the people of Ebonyi.
But sixteen years after that auspicious moment, Ebonyi people are still in critical conditions. From all indices, Ebonyi State remains the most challenged state in southern Nigeria in terms of infrastructural and human capital development indices.
From a recent 2011 national poverty report, Ebonyi State by all levels of analysis is the poorest state in Nigeria.  In the report, about 80% of Ebonyians are classified as falling below the poverty line; that is living below the proverbial $1 per day.
Of all the states in Nigeria, Ebonyi remains the least in terms of presence, for example in the Federal Civil Service and other federal parastatals across the country. A recent man power survey by the Federal Character Commission indicates that of over 650 federal Ministries, Departments and Agencies, Ebonyians in their employ are just a little above 2000. A breakdown of the 2010 Consolidated Manpower Statistics of 28 Federal Ministries/Extra-ministerial Departments shows that Ebonyi has 20 persons on Grade Level 15 and above; amounting to 0.7% of 3061 staff in this category; of 53340 staff on GL 07 and above, Ebonyi has a beggarly number- 547 staff (1.0%) when some states boast of 2000 to over 3000 staff.
Painfully, of the 154,886 staff on GL 07 and above, on the employment of 246 parastatals studied, Ebonyi has 1,508. This, gross under representation amounts to criminal marginalization.
From the document we obtained from the Federal Character Commission, of the total of 40,295 staff of the Power Holding Company of Nigeria, Ebonyians are only 349, in Federal Ministry of Education, of the total of 18,639, Ebonyians are 224, in Federal Ministry of Defence, of the 13,676, Ebonyians are barely 84; in Federal Ministry of Works, Housing and Urban Development, of 7,857 staff, Ebonyians are merely 36, of the 1,493 staff of the Consumer Protection Council, there are only two Ebonyians in that agency. In Kaduna Polytechnic with over 2, 486 workers, there is no Ebonyian in the employ of the foremost Federal Polytechnic. The list is endless and nauseating.
It is also on record that only three indigenes of the state have ever headed federal agencies since return to democracy in 1999. They include Engr. Anthony Igwe, former Executive Secretary, National Automotive Council, NAC, Engr. Elias Mbam, current Chairman of Revenue Mobilisation Allocation and Fiscal Commission, RMAFC, and Rector of Akanu Ibiam Polytechnic, Unwana, Afikpo, Prof. Francis Otunta.
Even this sordid statistics might be worse if subjected to close scrutiny; as some of the people parading themselves as Ebonyians in federal government offices may not be Ebonyians after all. We gather that some people from other states fraudulently procure certificate of origin purporting to come from Ebonyi. Only recently, a committee set up by the Commissioner representing Ebonyi State in the Federal Character Commission (FCC), discovered about 30 senior officers of Nigeria Immigration Service whose service records showed that they hailed from Ebonyi; while in the real sense they were not of Ebonyi origin.
This precarious situation has continued to worry Ebonyi Professionals. Our investigation has further revealed that the situation is not primarily because the state lacked the required manpower.
As our state turns 16, we have decided that Enough is Enough! We have resolved to protest at the Federal Civil Service Commission, Office of the Head of Service of the Federation, Federal Character Commission and any other relevant agencies and seek urgent redress of the parlous trend.
The foregoing situation notwithstanding, we celebrate Ebonyi at 16, and wish the Government and good people of Ebonyi State a successful Anniversary.
Magnus Eze wrote from Abakaliki, Ebonyi State.