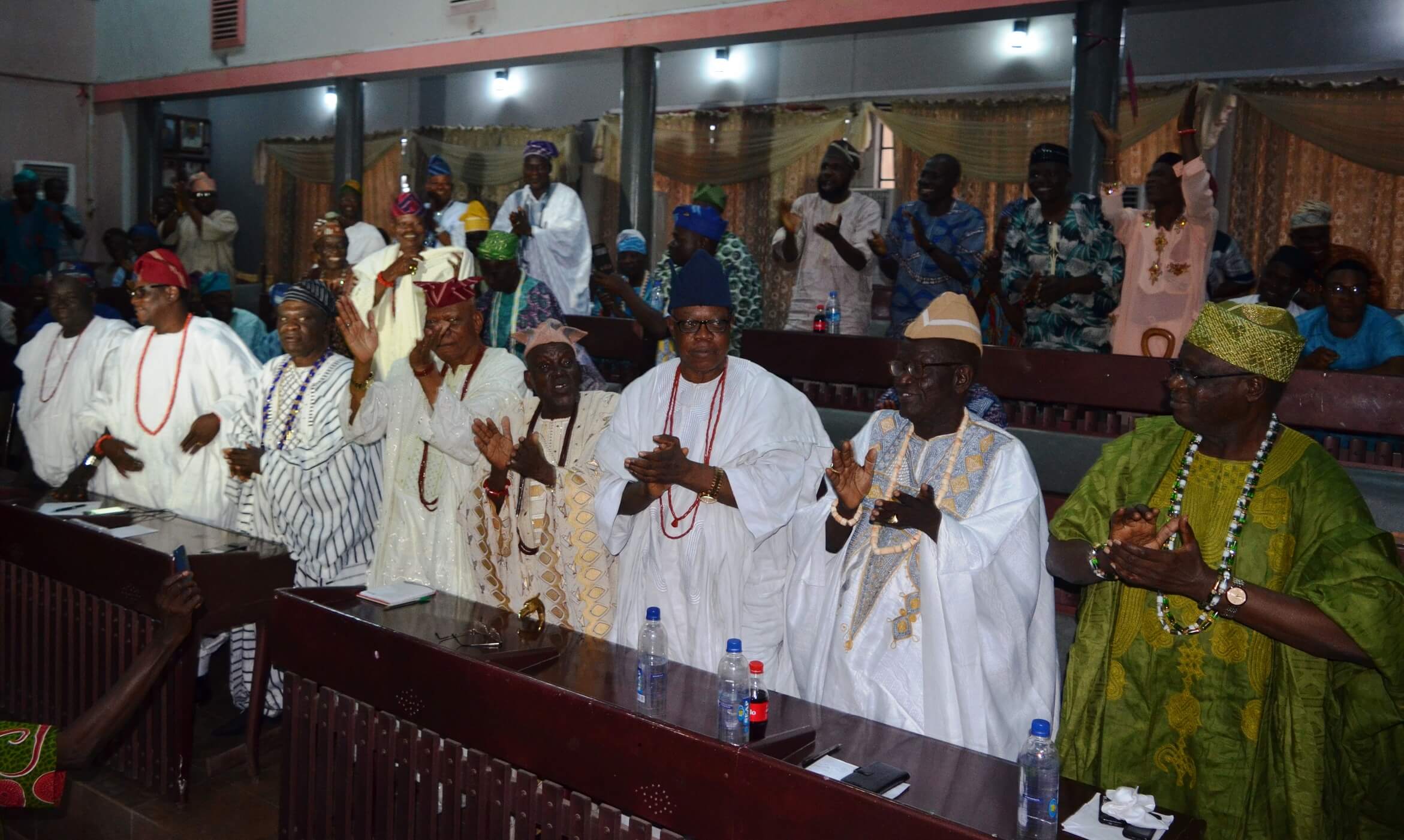 The Oyo State Government on Friday issued letters of conferment of Obaship on 21 chiefs in Ibadan, just as it announced that their coronation will hold on August 27, 2017 at Mapo Hall, Ibadan.
The government explained that its decision was in line with the provisions of the recently amended 1959 Declaration of Olubadan and other related chieftaincies in Ibadanland as well as the government White Paper as conveyed in Government Gazette No 14, Notice 27 Vol. 42 of August 23, 2017 and Gazette No. 15 Notice 28 Vol. 42 of August 24, 2017.
The government stated that the Governor of the State, Senator Abiola Ajimobi, exercised his powers as conferred on him by section 28(i) Cap. Vol 1 of the Chiefs Law of Oyo State of Nigeria 2000 and the amended 1959 declaration.
The Secretary to the State Government, Olalekan Alli, who presented the letters at the House of Chiefs, explained that Eight High Chiefs were given letters elevating them to Obaship and changing their titles to "His Royal Majesty", while 13 Baales were elevated to "His Royal Highness", noting that nine vacant Baale stools were not conferred but their positions are now recognized as Obas.
Alli said High Chief Lekan Balogun, Otun Olubadan of Ibadanland; High Chief Eddy Oyewole, Ashipa Olubadan of Ibadanland; High Chief Akinloye Owolabi Olakuleyin, the Balogun of Ibadanland; High Chief Tajudeen A. Ajibola, Osi Balogun of Ibadaland; High Chief Latifu Gbadamosi Adebimpe, Asipa Balogun of Ibadanland; High Chief Kolawole Adegbola, Ekarun Blaogun of Ibadanland; High Chief Abiodun Kola-Daisi, Ekerin Olubadan of Ibadanland; and High Chief S. Amidu Ajibade, Ekarun Olubadan of Ibadanland, will now be addressed as Royal Majesties, while the Olubadan of Ibadanland, Oba Saliu Adetunji, remains the Imperial Majesty with no disruption or amendment to the traditional Olubadan Chieftaincy ascendancy system or structure.
He stated that Chief Lasisi Akano, Onijaye of Ijaye; Chief Ismaila Olasunkanmi, Oniroko of Iroko; Chief Moses Olasunkanmi, Onikereku of Ikereku; Chiief Mudasiru Omodele Adebayo, Baale Olodo; Chief Victor Sunday Okunola, Elegbeda of Egbeda; Alhaji Wahab Olabamiji Okedina, Baale Okelade-Okin; Chief Olabamiji Ahmed Thomas, Alakufo of Akufo; Chief Gbolagade Muritala Babalola, Onido of Ido; Chief Dauda Omotoso, Baale Awotan; Chief Tiamiyu Labiyi Ladipo, Baale of Abanla; and Chief James Oladipo Obisesan, Baale Akanran, were conferred with His Royal Highness status.
Speaking on behalf of the new Obas, Oba Balogun thanked the Oyo State Government and Ajimobi for answering the call of the people to review the Olubadan chieftaincy declaration of 1959, stressing that the new development is God ordained.
However, Obi Adetunji has kicked against the move by the Oyo State Government to have more beaded kings in Ibadanland.
The government has approved 32 more beaded kings for Ibadanland based on the recommendation of a panel it set up.