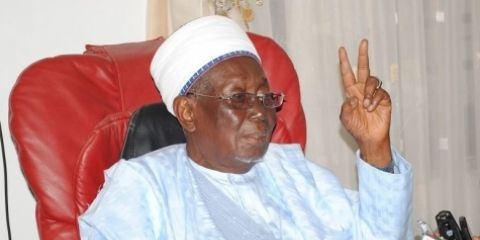 Dasuki, a detribalised Nigerian – PDP
The Makarfi-led faction of the PDP stated this in a statement signed by its National Publicity Secretary, Dayo Adeyeye, while condoling the Dasuki family, the government and people of Sokoto State
The Senator Ahmed Makarfi-led faction of the Peoples Democratic Party on Tuesday in Abuja described the late Sultan of Sokoto, Alhaji Ibrahim Dasuki, as a detribalised Nigerian.
The Makarfi-led faction of the PDP stated this in a statement signed by its National Publicity Secretary, Dayo Adeyeye, while condoling the Dasuki family, the government and people of Sokoto State.
The late Dasuki was the 18th Sultan of Sokoto between 1988 to 1996 and he was the father of the former National Security Adviser, retired Colonel Sambo Dasuki, currently facing corruption charges.
The party said: "We join Nigerians and his immediate family, especially the former National Security Adviser, Col. Dasuki, to mourn this detribalised Nigerian and a nationalist per excellence.
"He has left an indelible print in the sands of times worthy of emulation."
The party prayed God to grant the deceased eternal rest and to give his family the fortitude to bear the loss.
The late Dasuki, who died at the age of 93, was born in Dogon Daji, Sokoto State to the family of Alhaji Haliru Ibn Barau.
He was at a time, the Sarkin Yarman and a District head and was also the Chairman of the Committee to review Local Government Administration in Nigeria in 1984.
The committee recommended the establishment of the National Local Government Commission to encourage rural development which was rejected by the government at that time.
During his reign as the Sultan of Sokoto, the late Dasuki established 10 Quaranic schools and Adult Literacy Class in 1990.
Dasuki was later deposed as Sultan in 1996 by the late Head of State, General Sani Abacha.
He finished his secondary education at Barewa College, Zaria, on a sponsorship from Sokoto Native Authority.
After finishing high school in 1943, he worked as a clerk in the treasury office of the Sokoto Native Authority.
The late Dasuki consequently took up appointment with Gaskiya Corporation, a publishing house that published the Hausa daily called Gaskiya Ta Fi Kwabo in 1945.