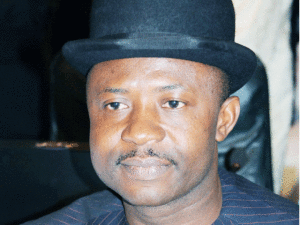 The Minister of Sports, Tammy Danagogo, has said that Nigeria will soon have a Court of Arbitration for Sports to avoid taking sports cases to regular courts.
Danagogo told newsmen in Abuja on Friday that one of the legacies he would leave behind was to ensure that there was a viable CAS to handle sports cases.
The Minister, who spoke against the background of the accusation that he has shown more than a passing interest in the crisis rocking the Nigeria Football Federation, said he had been neutral.
He said his role has been that of an unbiased umpire, but with regard for the position of the government as it pertains to law and order.
He said: "It is important as a people in this country that we understand that as a government, principally, we are governed by law and order as well as the constitution of Nigeria.
"We obey the rules and regulations governing football, but as a government we must also know that the laws of this country must be obeyed.
"Whatever role, if any, that I have played in the course of whatever has been happening is the role that our laws and constitution enjoins us as Nigerians to do.
"If in the course of that period, certain actions are taken in furtherance of that order, it is the court order.
"But to make sure that such does not repeat itself, we have resolved to have our CAS.
"This is because one of the legacies I want to leave as the minister is to have a viable CAS."
Danagogo said that when managing a system, it was important to have an avenue to seek redress in case of disagreement.
He said: "The reason why all these are happening is that a lot of people are involved in sports, particularly football, and certainly there must be disagreement.
"But when there is disagreement and we don't have a CAS in Nigeria, where they can seek redress nearby, that is why you see them always going to regular court.
"Now, we want to stem that trend by making sure that a viable CAS is set up, so that whenever there are disputes in sports and cases are taken there, we will obey whatever the outcome is.
"This is because one of the worst things you do in managing any system is to have a situation where people aggrieved have nowhere to seek redress.
"That means you want disorder."
The CAS is an institution independent of any sports organisation which provides servic­es in order to facilitate the settlement of sports-related disputes through arbitration or mediation.
This is done by means of procedural rules adapted to the­ specific needs of the sports world.
The absence of CAS in Nigeria led to a crisis within Nigerian football being referred to a regular court in Jos.
This led to Danagogo obeying the court order to sack the Chairman of the NFF, Aminu Maigari, and a ban threat from FIFA for government's interference.