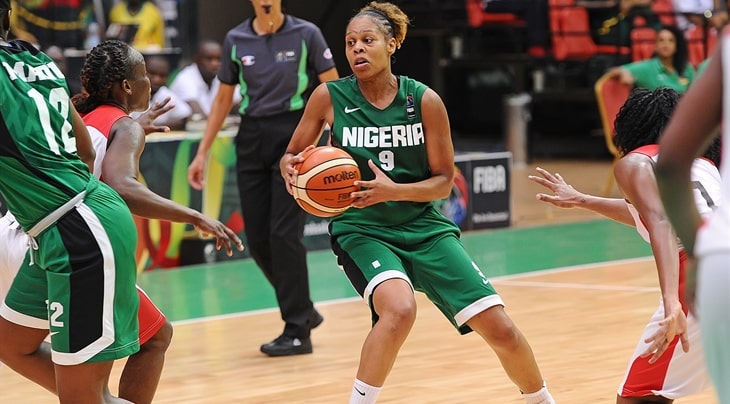 Dalung commends D'Tigress, CHAN Eagles
The D'Tigress on Sunday thrashed their Egyptian counterparts 106-72 in the third game of their Group B fixture to become the first team to qualify for the quarterfinals
The Minister of Youth and Sports, Solomon Dalung, has lauded the senior women's national basketball team, the D'Tigress, for outstanding performance at the ongoing 2017 FIBA Women's Afrobasket in Bamako, Mali.
The D'Tigress on Sunday thrashed their Egyptian counterparts 106-72 in the third game of their Group B fixture to become the first team to qualify for the quarterfinals.
The News Agency of Nigeria reports that D'Tigress in their opening game out-dunked Mozambique by 80-69 and outclassed Democratic Republic of Congo 84-47 in the second.
Dalung expressed happiness in Abuja with the team's performance so far in the Afrobasket and urged them to get to the final and win the trophy.
According to him, President Muhammadu Buhari sent his warm greetings to the team, adding that he was aware they knew he just arrived from medical vacation Saturday.
He said in a statement by Nneka Ikem-Anibeze, his Special Assistant on Media: "On behalf of the sports-loving Nigerians, I bring you goodwill and best wishes from Nigeria.
"We have been following your progress in the Afrobasket 2017 which is the equivalent of the Africa Cup of Nations in football and we are highly impressed by the victories recorded in your three consecutive games.
"The Federal Government will stand by you to ensure that you get all the support needed to bring back the Afrobasket trophy."
Dalung urged them to maintain their focus ahead of the last two games in the group stages and seize the opportunity to perfect their plans and head to the quarter-finals.
He said: "Having qualified, tactically, it will be wise for the coaches to give some of the fringe players a run to get them in top shape for the challenges ahead of the elimination stages."
The minister prayed for an incident and injury free Afrobasket campaign while restating the need to remain focused and determined in their quest to win their third title.
He said: "Continue to play as a unit and in love like one family and by God's grace, you'll achieve success in your outing in Mali."
Dalung also commended the Super Eagles Team B that defeated the Squirrels of Benin Republic 2-0 in their second leg game of the African Nations Championship qualifier at the Sani Abacha Stadium, Kano on Saturday.
Dalung, who was in Kano to cheer the home-based Super Eagles, said their qualification once again confirmed the belief that the Nigeria Professional Football League was fast developing.
He added that the NPFL was producing budding talents who could form the backbone of the senior national team soon.
The minister said the victory was sweeter because it ensured that Nigeria would book a place in the 2018 Championship billed for Kenya.