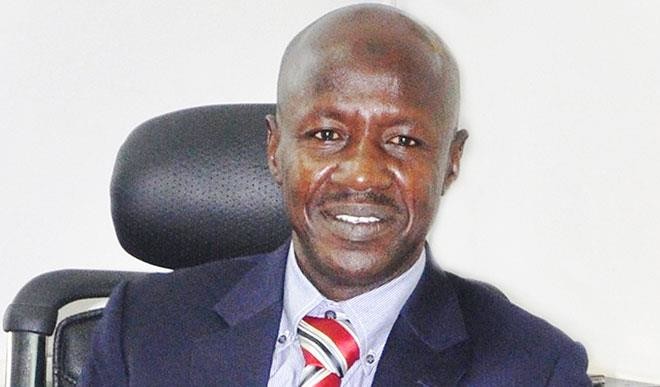 The Economic and Financial Crimes Commission has decried "how (corruption suspects) now whip up religious sentiments whenever they are called upon to account for any alleged misdeeds''.
Acting Chairman of the commission, Ibrahim Magu, raised the concern at the 7th Triennial National Delegates Conference of the National Council of Muslim Youth Organisations in Ibadan.
According to a statement by Spokesman of the anti-graft agency, Wilson Uwujaren, in Abuja on Monday, Magu was represented by Mohammed Rabo, Head of the Ibadan zonal office of the EFCC.
The statement said: "It is sad to note that the corrupt, using sponsored people, claim that they are being prosecuted because of their religion or their ethnic identity.
"They do their utmost not to answer the all-important question of whether or not they were guilty of the corruption allegations against them.
"Who, among the corrupt and those engaged in financial and economic crimes, does so in the name of his or her religion or ethnic group?''
He stated that religious or ethnic identity was never a consideration whenever the EFCC arrested or prosecuted individuals for economic and financial crimes.
Magu said: "What we see before us are men and women who have done something wrong and who should answer before the law courts.
"Each and every person we have interrogated and prosecuted cornered resources meant for their people to private use.
"But they turn around and appeal to those same people they have impoverished – whipping up ethno-religious sentiments.''
The EFCC boss urged faith-based organisations to be actively involved in the fight against corruption by teaching their faithful moral uprightness and integrity.
According to him, every religion teaches the fear of God and abhors every behavioural digression that promotes moral decadence, impurity and all forms of vices including corruption".
He said: "Whoever amongst you sees something wrong he should change it physically – using his hand, if he is not able to do so with his hand, he should change it orally – speaking out in condemnation against it.
"If that is still not possible, he should detest it in his mind; this constitutes the weakest level of faith."
The anti-graft czar said there was no reason why everyone, particularly Muslims, should not be in the vanguard against corruption and other vices in the society, given the above Hadith and corresponding teachings in other religions.
He said: "The strength or weakness of our faith can be measured by our ability or otherwise to stand up to and challenge those committing evil acts, including those acts that negatively impact our social, economic and moral well-being.''
Magu urged the youth to form a vanguard against corruption and make themselves ambassadors of integrity by questioning any momentary wealth and ostentatious living.