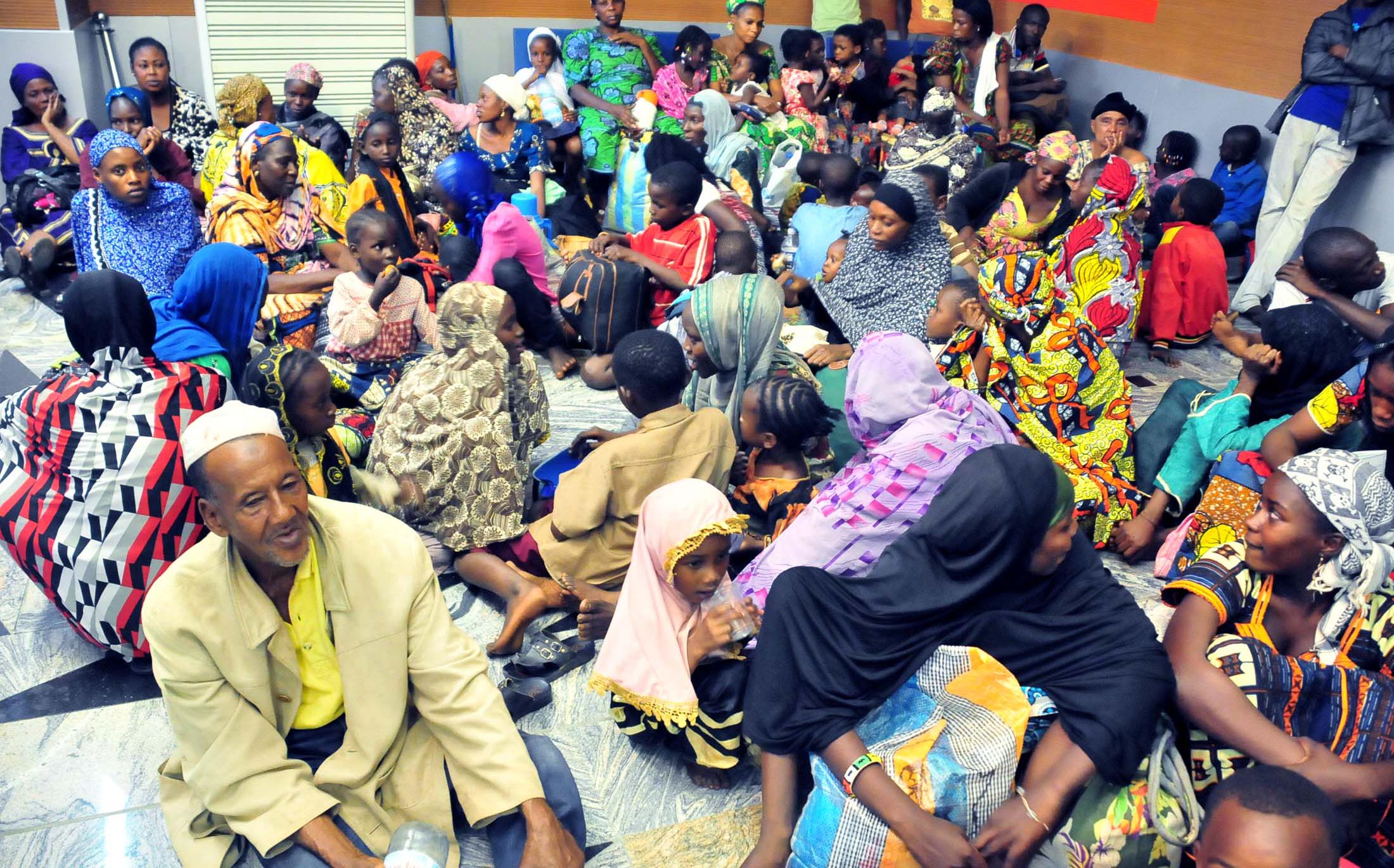 CAR evacuee gives birth to twins on arrival in Abuja
Munzo Ezekiel, the Public Relations Officer of the National Emergency Management Agency, told NAN that the woman was delivered of her twin baby boys by the agency's medical team at 11pm.
He said that the woman and the twins were in good condition at the Nnamdi Azikiwe International Airport medical centre
A woman, who was among the first batch of 365 Nigerians evacuated from Bangui, Central African Republic, gave birth to a set of twins on arrival in Nigeria on Friday.
The News Agency of Nigeria reports that the woman went into labour while on board a chattered Arik Airline, which landed at the Nnamdi Azikiwe International Airport Abuja at 8.30pm.
Munzo Ezekiel, the Public Relations Officer of the National Emergency Management Agency, told NAN that the woman was delivered of her twin baby boys by the agency's medical team at 11pm.
He said that the woman and the twins were in good condition at the Nnamdi Azikiwe International Airport medical centre.
Meanwhile, Ambassador Martin Uhomoibhi, the Permanent Secretary, Federal Ministry of Foreign Affairs, who received the evacuees at the airport, said 2,000 Nigerians would be evacuated in the course of the exercise.
Uhomoibhi said that the evacuation became necessary to protect the lives of Nigerians living in the Central African Republic, following the political crisis that has engulfed the country.
He said that the Federal Government gave the evacuation order in reaction to the political crisis in that country.
NEMA's Deputy Director, Planning, Research and Forecasting, Alhaji Alhassan Nuhu, told newsmen at the airport that the evacuees would be accommodated in the Hajj Camp at the airport.
Nuhu said that NEMA was working with the State Emergency Management Agency in the various states to ensure the safe return of the evacuees to their states of origin.
He said that the SEMAs and Local Emergency Management Committees were expected to ensure the transportation and subsequent integration of the evacuees into their communities.
Some of the evacuees who spoke to NAN solicited government's support to enable them start life afresh in Nigeria.
Ali Gana, an evacuee and an indigene of Bama in Borno State, said he lost his wife in the crisis.
Gana said he returned home with his two children.
"My wife left the place where we were taking refuge to look for her sister and never returned," he said.
Gana, who said he was traumatised and was seen holding on to his crying three-year-old daughter, added that he witnessed human beings being butchered in Bangui before escaping to the Nigerian Embassy.
He commended the Federal Government for coming to their rescue and expressed the hope that they would not be abandoned in the future.
NAN reports that most of the evacuees in the first batch were women, children and the sick.
A NEMA official, who accompanied the evacuees, told NAN that most of the women were citizens of Bangui married to Nigerians.