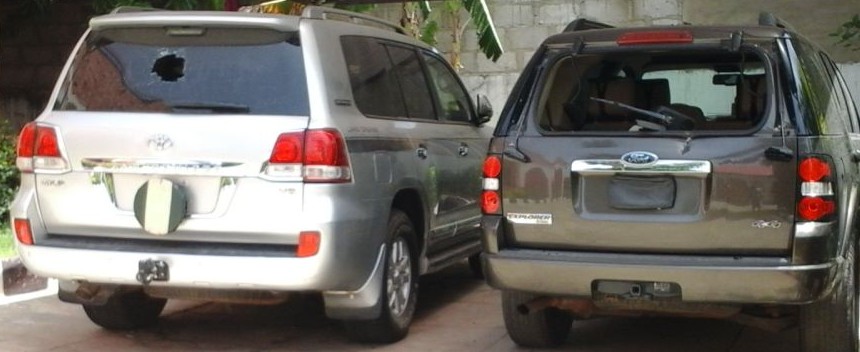 Barely 24 hours after the ousted Speaker, Barrister Adamu Usman, was impeached and a new speaker sworn in, the Nigerian Police Force on Wednesday used teargas to disperse members and workers of the Niger State House of Assembly, who resumed duty at the complex.
The new leadership and members, led by the Speaker, Hon. Isah Kawu, were barred from gaining entrance into the Assembly Complex by the Police who put the gate under lock and chains.
As the legislators tried to break the padlock, the police used teargas to disperse them, thereby causing pandemonium in Minna, the state capital.
When contacted on the telephone, the Police Public Relations Officer, Ibrahim Gambari, said there was no such order that policemen should deprive workers and members of the House but that the men of the Force were ordered to stop vandals from taking over the Complex.
According to Gambari: "Those people are not members of the House of Assembly or workers at the Assembly.
"They are vandals.
"Our men are there to stop vandals from destroying properties and causing problems.
"We only asked them to ensure peace and orderliness.
"The teargas is to scare them away because they were already trying to force themselves to gain access into the premises."
It should be noted that the policemen at the Assembly Complex on Tuesday attacked journalists who were carrying out their legitimate duties at the Niger State House of Assembly.
The Police had in the early hours of Tuesday locked the gate to prevent the coming in or going out by members and staff of the House.
It was reliably gathered that two police officers are presently in detention for allowing some journalists into the Complex on Tuesday to report the happenings at the Assembly.
The order for all these attacks are said to be coming from the Niger State Assistant Commissioner of Police (Operations), Emmanuel Olokor, who instructed that nobody be allowed in or out of the premises.
The members, led by Kawu however left the scene and assured journalists that they will call a press briefing.
However, some members kept shouting: "Are we prisoners?
"Did we beat anyone?
"Did we cause riot?
"Why should you lock us out?
"These people are trying to create trouble when there is no trouble.
"You cannot infringe on our rights."
As at the time of filing this report, the members of the House left for an unknown destination to have a meeting.