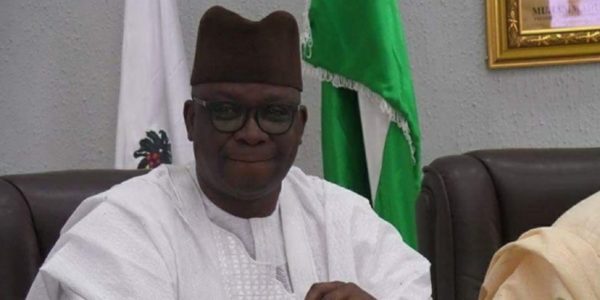 The Economic and Financial Crimes Commission has written to the Nigeria Customs Service to be on the lookout for the Ekiti State Governor, Ayo Fayose, in case he attempts to leave the country.
The notice was contained in a memorandum to the Comptroller General of the NCS, retired Colonel Hameed Ali, by the Acting Chairman of the EFCC, Ibrahim Magu.
The memorandum, titled: "Request for watch-listing of persons, case of conspiracy, abuse of office, official corruption, theft and money laundering," was dated September 12, 2018.
Giving Fayose's international passport number as A05804492, Magu told Ali: "The under listed suspect is under investigation in connection with the above mentioned offences and there is reasonable suspicion suggesting that he may likely leave the Country either through the land borders, Airports or Seaports in order to evade investigation. Hence, you are kindly requested to watch-list and arrest him."
Ali, in return, wrote to his top lieutenants, on the need to be on the lookout for Fayose.
The internal memo, dated September 14, 2018, was copied to All Zonal Commander; Customs Area Controllers; Comptrollers FOU A, B, C and D; Comptrollers EMC and WMC; Comptroller CIU; and National Coordinator Headquarters Strike Force.
In the memo, signed by the Assistant Comptroller-General (E I & I), B.A. Amajam, on behalf of the Deputy Comptroller General of the Unit, said: "Forwarded herewith is a letter from the Economic and Financial Crimes Commission referenced CR 3000/EFCC/ABJ/EG/TA/VOL.59/010 dated 12th September 2018.
"Consequently, you are requested to monitor the suspect and report to the Economic and Financial Crimes Commission through the contact details if sighted.
"Above is for your information and compliance, please."
Fayose, who was elected on the platform of the Peoples Democratic Party, had last week written to the EFCC that he would report a day after handing over power to the Ekiti State Governor-Elect, Dr. Kayode Fayemi, the candidate of the All Progressives Congress for the governorship election in the state.
He is expected to handover on October 15, 2018 and promised to report to the EFCC headquarters in Abuja on October 16, 2018.
But there had been insinuations that Fayose would leave the country before then owing to alleged corruption, which he alluded to in his letter to the EFCC.