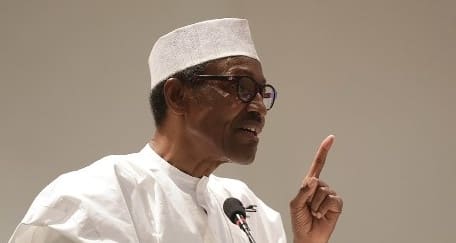 President Muhammadu Buhari has given the go ahead to the Economic and Financial Crimes Commission and the Independent Corrupt Practices and other related offenses Commission to proceed with the probe of the sacked Secretary to the Government of the Federation, Babachir Lawal, and the Director General of the National Intelligence Agency, Ambassador Ayo Lawal.
According to a statement by the Presidency on Monday night, Buhari in giving the go ahead, said he remain committed to the Rule of Law and will not shield anyone from investigation.
The statement, endorsed by the Senior Special Assistant on Media and Publicity to Buhari, Malam Garba Shehu, said after the President's administrative action, all other actions will be taken by relevant government agencies.
Shehu added: "The position of the President therefore is that investigation agencies which have already commenced the investigation of the two officers removed from office will go on with their work of investigation without any interference or hindrance.
"The President who is fully conversant with the provisions of the constitution will not stop the investigation of anyone because he has no such power under our laws. This is a decision of the Supreme Court.
"The President under our laws can, through the Attorney General enter a nolle prosequi to stop an on-going trial. He may upon conviction, order a pardon.
"Beyond these, the "resident cannot order investigation agencies to not investigate anyone and does not intend to do in this, or any other circumstance.
"Based on his wish and desire for a strict observance of the law, the President expects the EFCC, ICPC and such agencies to proceed with ongoing investigations.
"When and where they have reasonable grounds to charge former or serving officers to court under our laws, they do not require the permission of the President to do so."
Buhari on Monday sacked both men from office.
Lawal was accused of complicity in contracts awarded for the cutting of grass in Yobe State under the Presidential Initiative on the North East.
Oke admitted that the NIA was in the know about N13 billion found in cash of different denominations and currencies in a Lagos house.