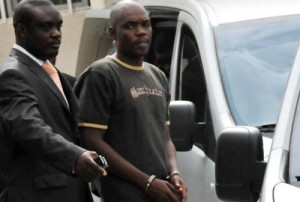 The Federal High Court in Abuja on Wednesday ordered the Nigerian Prison Service to allow Charles Okah, a terrorist suspect, to be subjected to psychiatric examination.
Justice Chukwuma Evoh gave the order following Okah's alleged display of mental incapacitation on arrival in court for from the Kuje Prison, Abuja.
Okah, who was brought to the court in a wheel chair, could neither speak nor gesticulate.
The accused's counsel, Festus Keyamo, represented by John Anieto, told the court about the medical condition of his client.
Keyamo said: "My lord, he has been like this for long.
"The prison authority never saw this as a problem.
"This was a young virile man gradually being incapacitated as the result of ill-treatment.
"My Lord, we have not been able to speak with him as a result of this seeming retarding state.
"I pray the court to allow him to properly examine for us to ascertain the actual problem."
However, Dr. Alex Izinyon (SAN), the prosecution counsel, opposed the oral application.
Izinyon said: "My lord, it is a complete drama to stall the trial.
"I have gathered from the prison staff that the accused person is always well and hearty until a date for his trial is fixed.
"The court should discountenance this drama and continue with the trial."
Okah and two others were accused for the Independence Day bombing in Abuja in 2010.
The matter was adjourned to January 15 and 16 as well as February 5 and 6 for report on the health condition of the accused and trial.