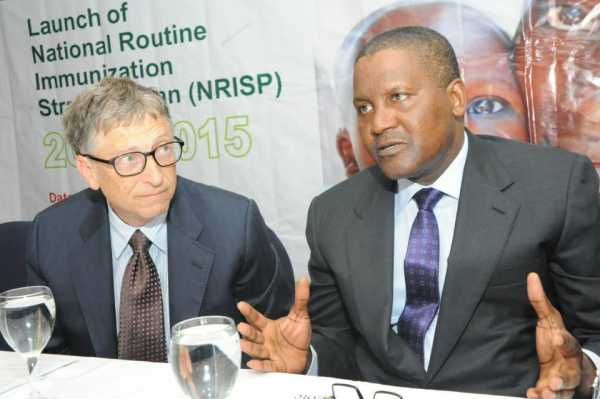 Bill Gates and Aliko Dangote on Wednesday signed a Memorandum of Understanding with six northern state governors on improved access to immunisation in Nigeria.
The governors are Aminu Waziri Tambuwal of Sokoto; Kashim Shettima, Borno; Abdullahi Ganduje, Kano; Muhammed Abubakar, Bauchi; and Nasir El-Rufai of Kaduna State, while Yobe State Governor Ibrahim Geidam was represented by Dr. Bello Kawu at the signing ceremony in Sokoto.
The Minister of Health, Prof. Isaac Adewole, witnessed the ceremony after community engagement in roundtable and the Northern Traditional Rulers Council.
In his address, Gates said all partners were committed to ensuring that maximum number of children were reached, adding that the MoUs were intended to enable states achieve targeted coverage.
He said: "Routine immunisation is crucial to ensuring that every child is protected against vaccine-preventable diseases, helping them achieve their potential and live full, productive lives.
"We are ready to support the states in reaching the targets set out in the MoUs."
Gates said with the election season approaching, all hands must be on deck to ensure the targets were met.
He projected that all partners were committed to reaching at least 80 per cent coverage in 2019.
Gates commended all the signatory-states for their commitment, adding that Nigeria is so far on the right track not just in efforts to fight polio, but on achieving targets in routine immunisation.
He added: "My request is that all the governors should review campaigns and ensure that in the next two years, we complete polio eradication.
"On routine immunisation, the opportunity is fantastic vaccinations are phenomenal on their impacts. We can prevent millions of deaths by doing work on routine immunisation."
According to Gates, the MoU will facilitate more good works on immunisation, manpower training and better management, urging traditional leaders and government to redouble efforts to sustain the achievements.
On his part, Dangote emphasised the need for governments to be updated on the payment of their counterpart funds and to work hard on improving data especially at the grassroots level.
he said: "We are delighted that the MoU have been extended, reaffirming Bauchi, Borno, Kaduna, Kano, Sokoto and Yobe states' commitment to the health of their citizens.
"Our expectation now is that this commitment will be translated into concrete action."
Dangote commended the Federal and State Governments for working on data improvement and for renewing their commitments to tackling preventable diseases.
He said the inclusion of primary healthcare development programmes would also translate in increased community commitment as local government chairmen and district heads were participating on routine immunisation meetings during campaigns.
Tambuwal had earlier pledged committed of all the states to improving vaccine availability, encouraging stronger community engagement and securing financing.
"In addition, we will ensure strong monitoring and evaluation while at the same time, accountability mechanisms will be put in place," he added.
In their separate presentations, the governors expressed delight at the signing of the MoUs and vowed to ensure full implementation in their various states.
The governors explained the road map achievements and provided graphic statistics on immunisation coverage, manpower, healthcare facilities and challenges, stressing that each of them had come out with distinct policies in order to achieve the desired impacts.
Speaking at NTRC meeting earlier, the Sultan of Sokoto, Sa'ad Abubakar III, commended Gates' and Dangote's commitment along with international agencies contribution, stressing that poverty remain a hitch to health and other sectors toward desirable development.
Abubakar said the donors increased investment had led improvement of health being of Nigerians, noting that healthy individuals would remain productive persons.
He said the meeting aimed at discussing successes, challenges and way out of mitigating challenges and assured increased traditional rulers commitments toward achieving desired impacts.
The programmes were attended by the Executive Director, National Primary Health Care Development Agency, Dr Faisal Shuiab; UNICEF Country Representative, Dr. Muhammed Fall; and DFID Head of Mission, Debbie Palmer.