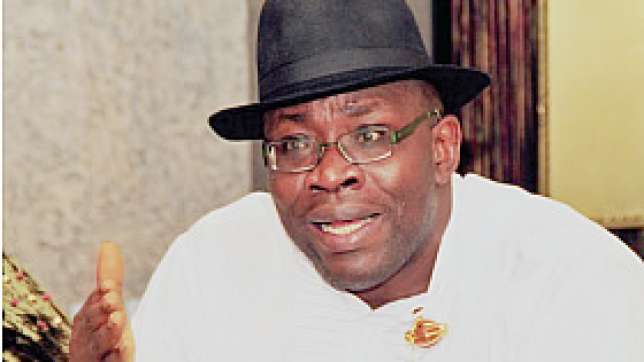 Bayelsa APC crisis deepens as ex-Commissioner, 7,000 others defect to PDP 
A one-time chieftain of the All Progressives Congress in Bayelsa State, Hon. Jackson Suokiri, was among over 7,000 APC supporters who defected to the Peoples Democratic Party on Monday in Odi, Kolokuma Okpokuma Local Government Area of Bayelsa State.
Suokiri, a one-time State Secretary of the PDP and Commissioner in the state, had defected to the APC prior to the 2015 general elections.
He was among 7,000 oparty faithful who welcomed Governor Henry Seriake Dickson to Odi Community when the Governor paid an unscheduled visit to the community on Monday to celebrate the New Year.
In his remarks at a brief reception held in his honour, Dickson admonished the political class to connect with their people, especially at the grassroots level, at all times and not only when they need the votes of the people at elections.
He urged the political class to have closer contact with the electorate by regularly visiting, connecting and interacting with them, stressing that it is by so doing that politicians would gain the trust and confidence of the people.
According to him, as a countryman and a grassroots politician, he will remain connected to the people in appreciation of the massive support he has received from them over the years, especially in his political adventures.
He said: "The power of the people is the most potent weapon you can find any where in the world.
"More potent than any armoury.
"The difference between me and many politicians is that I am a Countryman.
"I connect with the people.
"I feel their pains.
"When they are happy, I am happy and vice versa.
"I appreciate the people because they have made me what I am and above all, they have made the PDP the strongest party, the only party that can win election in our state.
"For those who seek political office, we must not go out to hurt people for their welfare and interest should ordinarily be the reason for being in politics.
"We should be civil as we carry out our activities in 2018, being a crucial election!"
Also speaking, the Chief Whip of the Bayelsa State House of Assembly and member representing Kolokuma/Opokuma Constituency I, Hon. Tonye Isenah, described Suokiri as a high profile politician who has traversed the political landscape for over decades, noting that his return would positively impact on the PDP in the local government.
Isenah called on other APC members in the state to retrace their steps as the PDP remains the party of every right thinking Bayelsan who means well for the State and its people.
The Bayelsa State Chairman of the PDP, Hon. Cleopas Moses, commended Suokiri for his decision to quit the APC for the PDP, which he said was his home.
Moses stressed that Suokiri was a committed and deep rooted PDP member before those wielding the broom hoodwinked him into joining them.