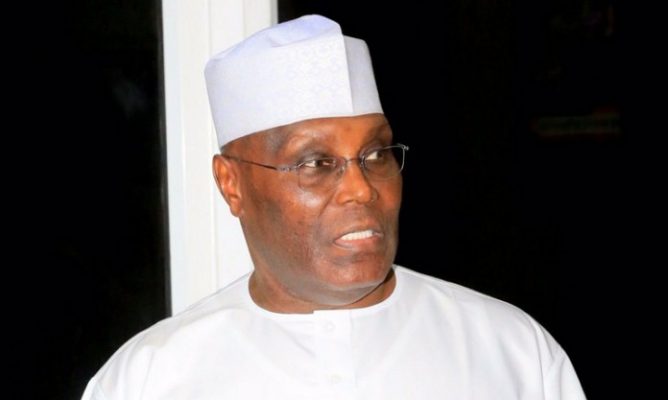 Barely a week after a son of former Vice President Atiku Abubakar was involved in a near fatal accident along the Mayo Belwa-Jada-Ganye-Toungo Road, the Federal Government has begun the reconstruction of the road.
The contract for the 112km road leading to Abubakar's ancestral hometown, Jada, was awarded to Triacta Construction Company for N22.6 billion, with 36 months completion period.
The flag off, which attracted major political stakeholders from the senatorial zone, was turned into a rally against Abubakar as speaker after speaker tongue lashed him for not constructing the road while he served as the vice president of the country.
Leading the pack, the paramount ruler, Gangwari Ganye, Umaru Sanda, said it was unfortunate that sons of the area who had occupied important positions and had the opportunity to construct the road had neglected it.
sandy described the road as the life wire of the area.
The Secretary to the Government of the Federation, Boss Mustapha, noted the road was last constructed by the defunct Petroleum Trust Fund, headed then by Muhammadu Buhari.
Mustapha said it snow being reconstructed 22 years after with Buhari as president.
He thus advised the people of the area to vote massively for the All Progressives Congress and President Buhari.
The Adamawa State Governor, Senator Mohammed Umaru Jibrilla Bindowo, praised Buhari for embarking on the development of infrastructure across the country and charged the people to keep faith with the President so that they can continue to attract development.
The road links major towns like Mararaba Jamtari, Jada, Dashen, Ganye and terminating at Toungo.
The road is of economic importance for the transportation of goods and services as it passes through mainly agriculturally predominant towns and villages.
The road is characterised by several failed sections, multiple potholes, alligator cracks, depression and washouts at the edges, thereby necessitating the need for the reconstruction of the entire length of the road.