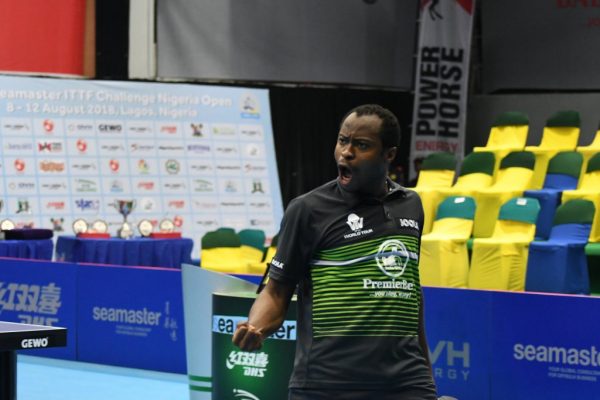 African and Nigerian champion, Aruna Quadri, has been knocked out of Liebherr 2018 ITTF Men's World Cup in Paris.
Quadri lost his two matches in Group B on Friday to miss qualifying for the last 16.
He lost his first match to Gauzy Simon of France 3-4 and the second match 2-4 to 18 year-old Kanak Jha, bronze medallist at the recent Buenos Aires 2018 Youth Olympic Games.
It was the biggest upset of the day, as American Kanak Jha is seeded 18th, while Quadri is seeded 14th.
Beside, Quadri had beaten the player in Lagos at the Seamaster 2018 ITTF Challenge Nigeria Open,in six games (11-7, 11-9, 8-11, 11-7, 8-11, 11-9).
Quadri said: "Today was a bad day for me.
"That's sport.
"I think I played a bit better in the first match.
"I knew that the second match would be very difficult and I didn't start very well, making it an uphill battle.
"It's an unbelievable atmosphere here and one of the best I've seen so far in the world.
"I think it's a very good tournament.
"I'll now be going back to my club in Portugal and will continue to train and work hard."
Jha made his debut in the tournament four years ago, when it was staged in the German city of Düsseldorf.
In Liege last year, he lost to Korea's Lee Sangsu in seven sets and also to Quadri.
Now in his third appearance, he qualified, despite also bowing 0-4 to the Frenchman Gauzy.
But he exacted a sweet revenge on Quadri, he being the player that sent Jha packing in Liege.
He said: "I'm very happy.
"It was my goal to qualify for the main draw.
"Both of my opponents are top players, so I'm very satisfied.
"I think that in the first match my head was everywhere.
"Simon is a good player, so I knew that it would be a tough encounter
"Therefore, I tried to forget about the first match and approach the second one with a fresh mind.
"The atmosphere in the hall is amazing.
"The crowd is very loud and I think that everyone is enjoying playing here."
Some of the other qualifiers are: Vladimir Samsonov of Belarus, the no.15 seed; Emmanuel Lebesson, the no.17 seed; Brazil's Gustavo Tsuboi, the 16 seed; Korea Republic's Jang Seongun, the no.11 seed; Gustavo Tsuboi; Sweden's Mattias Falck; and Denmark's Jonathan Groth.
Play in the main draw, the first round and quarterfinals will be held on Saturday.