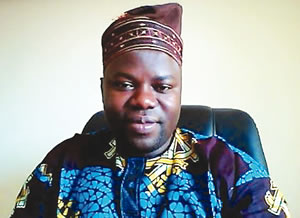 APC to Fayose: You're not wanted in our party
The Ekiti State Chapter of the All Progressives Congress has asked Governor Ayodele Fayose to forget any hope of joining the party from the Peoples Democratic Party.
The APC said Fayose is not wanted in the ruling party.
Reacting to media reports quoting Fayose as planning to dump PDP for another party, the APC's Publicity Secretary, Taiwo Olatunbosun, said in a statement on Sunday that the party could not be in the contemplation of the governor if indeed he wanted to move to another party.
But Olatunbosun said Fayose is day-dreaming if he nursed any hope of seeking refuge in the APC that controls the Federal Government "because he cannot survive in an opposition party".
His words: "Fayose is always seeking to be relevant in party politics with his party dominating at the centre to enable him get away with his many cases of illegality and lawless conducts.
"Fayose has been jittery and confused since the PDP lost Ondo State to the ruling APC against all odds and calculations and as a political gambler, who has traversed many parties since 2003 till present, starting from the PDP to APGA, Labour party, romanced briefly with ACN and PPA before moving back to the PDP even as he romanced AD in the last week governorship election, he is at his wits again to save his skin.
"Sensing that PDP is in the throes of death, he is contemplating dumping the party for APC, but there is no place for him in APC as he is only looking for an escape route from prosecution for his various infractions on the law since his first aborted tenure as governor.
"Fayose is a blight to any political association he finds himself. For instance, he chased those who helped him win election in 2003 away from PDP and attacked several other members with thugs before he was sacked over criminal conduct only to return to the same party to cause more confusion in Sheriff/Makarfi fractious PDP where he paid his benefactors, including Buruji Kashamu, with evil.
"APC will never accept such a destabilising character and does not have a space for such a demagogue without any ideological bent other than to seize state powers for personal benefits after causing confusion and disaffection among the leaders and running members to the bush."
Olatunbosun advised the governor to take the counsel of the Plateau Governor, Simon Lalong, who advised Fayose to stay in the PDP and face the law over his alleged misappropriation of state resources and other pending criminal charges.
He said: "No amount of defection to any party would save Fayose from prosecution.
"It is an act of insincerity on the part of Fayose, who daily boasts that he is the leader of opposition, to now dump his party for the party in power thinking that would save him from prosecution.
"The party he is planning to defect to is the same party whose members he has clamped in jail for over two years on trumped-up charges and whose many members were harassed, maimed and chased out of town shortly before the Presidential and National Assembly elections in 2015.
"Fayose is a trickster and a professional conman who deceives his hapless followers by saying things he does not mean and making promises he does not intend to keep.
"His latest hint that he may dump PDP which he later recanted has exposed him as a man of unstable character who should not be taken seriously."
Olatunbosun said Fayose would never escape the long arms of the law no matter the complex tricks he planned to employ to escape justice.