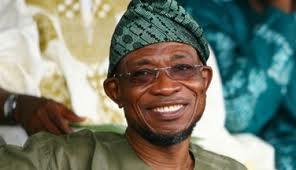 Apapa LG boss commends Aregbesola's group
Josepgh used the occasion to reaffirm his loyalty for and unwavering belief in Asiwaju Bola Ahmed Tinubu, the National Leader of the All Progressives Congress, in his moves towards the realisation of a better Nigeria
Hon. Ayodeji Joseph, the Chairman of Apapa Local Government Area of Lagos State, has commended the socio-political group, I Believe Ogbeni Rauf Aregbesola, for its steadfastness and resolute belief in the transformation programmes of Ogbeni Rauf Adesoji Aregbesola, the Governor of Osun State.
The council boss made this remark on Saturday at the council secretariat while addressing the group during its general assembly meeting.
Josepgh used the occasion to reaffirm his loyalty for and unwavering belief in Asiwaju Bola Ahmed Tinubu, the National Leader of the All Progressives Congress, in his moves towards the realisation of a better Nigeria.
He also commended Aregbesola for not letting down Tinubu based on the confidence reposed in him.
His words: "I commend the efforts and zeal of your group, IBORA, in giving Governor Rauf Aregbesola your full supports in making the State of Osun an enviable state. I foremost believe in Asiwaju Bola Ahmed Tinubu and since Asiwaju believes in Ogbeni Rauf Aregbesola, I also strongly believe in him."
The council chairman charged the group to emulate Aregbesola, especially in the area of humility.
He said: "My first encounter with him taught me humility. Ogbeni is a humble man. He accords Asiwaju a lot of respect. He played a major role in my emergence as the executive chairman of Apapa Local Government. I have travelled to the State of Osun and I can tell you categorically that there are no two parties in Osun. I also wish to be called Ogbeni Ayodeji Joseph."
In his remarks, Hon. Sola Okiki, the National Chairman of the group, thanked the council boss for his presence and contributions to the vision of the group and that of Aregbesola.
Okiki promised to make IBORA group a worthy example for others to emulate.