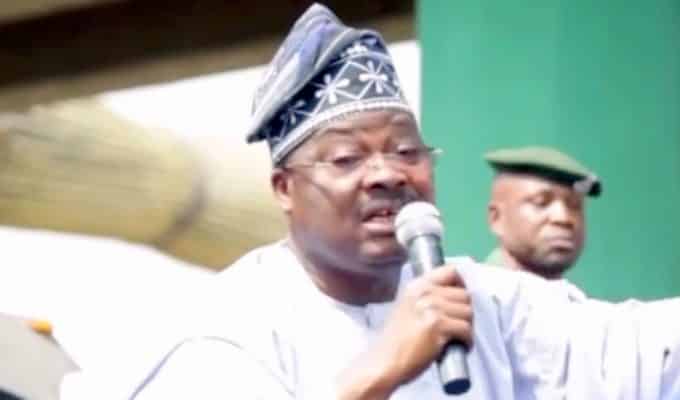 Governor Abiola Ajimobi of Oyo State on Monday urged the workers in the state to be more efficient in the discharge of their duties as he bade them farewell.
The governor spoke in Ibadan on Monday at the state's interfaith service held to usher in the 2019 service year.
The News Agency of Nigeria reports that the interfaith service is the last to be held by the Ajimobi-led administration.
NAN reports that 46 civil and public servants from across the Ministries, Departments and Agencies in the state were rewarded with cash prizes for their efficiency.
Ajimobi, who decried laziness, truancy, misappropriation, disloyalty and negligence on the part of some workers, also said hard work, innovativeness, creativity, diligence, professionalism and dedication enjoy spiritual and material benefits.
He said: "My speech this afternoon shall be in two-fold; to appreciate the good people of Oyo State and to bid you all farewell.
"There is a saying that says "there is nothing that has a beginning without an end.
"The journey which is gradually coming to an end in the middle of this year started with a bold step on May 29, 2011.
"In the face of many challenges, ups and downs, we were still able to sail through, courtesy of the wisdom of God as well as perseverance and endurance of the good people of Oyo State."
The governor said that his administration which has 135 days and 10 hours left had successfully delivered on the benefits of democracy in the state.
He said that his administration had also succeeded in changing the attitude of the civil servants, adding they had improved tremendously.
Earlier, Hannah Ogunesan, the State Head of Service, had commended the governor for his achievements, saying he had raised the bar of good governance.
Ogunesan said: "I salute and congratulate the leadership of Oyo State Government since 2011 for the unrivalled uplifting of the bar of good governance in the state.''
Ogunesan challenged workers in the state to ensure they all earn their pay through re-dedication to service, continuous self-development and commitment to enhanced productivity.
Modupe Fehintola, a Senior Reporter with the Broadcasting Corporation of Oyo State and an award recipient, expressed gratitude to the state government for the award.
Fehintola, who dedicated her award to the BCOS family, called on other workers to be more committed to duty.
Alhaji Adebayo Rufai, the Chief Imam, Government House Mosque and Rev. Kunle Oloyede in their various sermons, urged the people to fear and serve God always.
The duo prayed for the governor, his cabinet, workers as well as the state and the nation at large.
NAN reports that the event was attended by Chief Moses Adeyemo, the deputy governor, Joshua Ojo, the Speaker, Oyo State House of Assembly, and the wife of the governor, Florence.
Others in attendance were Senator Olabiyi Durojaye, Alhaji Tajudeen Olusi, lawmakers and members of the State Executive Council.