Stakeholders and subject matter experts alike agree that an increased focus on Science, Technology, Engineering, and Mathematics (STEM) education is essential for economic development. This four-pronged knowledge-based framework has inspired countries around the world to ramp up efforts in STEM research to find innovative solutions to critical economic challenges in areas such as health, food production, infrastructure, the environment, and manufacturing.
Africa is no exception. Despite the continent lagging behind its global peers in STEM education, there is a growing recognition of the importance of STEM for Africa's economic development and prosperity. In recent years, there has been a surge in initiatives to promote STEM education across Africa.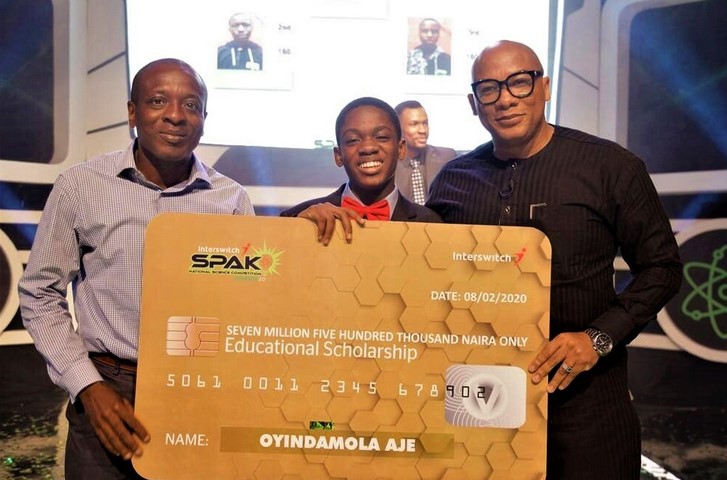 To advance this narrative of Africans' ability to create the needed continental change, Interswitch, Africa's leading integrated digital payments and e-commerce enabler is sustaining and consolidating Interswitch SPAK, its flagship educational corporate responsibility intervention which is geared towards creating shared value. Interswitch SPAK is the leading National STEM Championship in Africa, currently operational in Nigeria and Kenya, currently in its 5th landmark year.
The fifth edition of the prestigious annual STEM-focused initiative targeted at young Africans, InterswitchSPAK National Science competition, has commenced, and the winner will receive N7.5 million in scholarships for a five-year period, a laptop and monthly stipends.
According to statistics released by the company, the recently concluded registration for Interswitch SPAK 5.0 in Nigeria closed out with 17,139 high school science students enrolled to partake in the National Qualifying Examinations, representing a significant 34% increase over 2022 numbers. Similarly in Kenya, where the program is in its 4th year (having commenced a year later than the inaugural edition in Nigeria), registrations for season 4.0 saw a 31% spike over last year.
Interswitch conceptualized and developed the initiative with a view towards igniting, promoting, and rewarding STEM interest in young Africans.Since its inception in Nigeria in 2017, the InterswitchSPAK competition has drawn over 9,000 schools and more than 60,000 students from senior secondary schools across Nigeria – 6 of which appear in the top 10 rankings of best JAMB results annually. Of the thousands of interested applicants, the competition has delivered five winners, the most recent of which was historic, as the competition had its first female winner, Orevaoghene Whiskey of Top Faith International School, Akwa Ibom State. It has merged as a hub that supports the STEM aspirations of young Africans, providing them with a platform to collaborate with other brilliant minds on the continent in a bid to craft innovative solutions to Africa's peculiar problems.
Having its roots in Nigeria where four (4) winners have emerged year-on-year, the competition's success led to a spin-off in Kenya where three(3) national science champions have equally emerged so far, brimming with their deep-seated desires to change the STEM landscape in Africa.
The Interswitch Group have remained consistent in their messaging: Africa's future is mostly determined by young Africans. Globally, Africa's youth demographic is projected to grow to about 42 percent of the global youth population, according to the World Economic Forum. The continent has the youngest population in the world, with 70 percent of them falling under the age of 30.
This presents an immense opportunity for the continent; and a narrowed focus on STEM-related subjects will project Africa as a global force to reckon with. Today, there are no shortages of young African innovators, as they compete with their peers globally, bolstering the belief that Africans have the capacity to transform the continent and be global luminaries if the right tools are provided.
Also Read:
As a catalyst for educational transformation across Africa, the InterswitchSPAK competition also provides mentorship opportunities to guide these students through their chosen career paths on their journey to creating impactful change. Resting on four pillars: Speed, Precision, Accuracy, and Knowledge, the competition is designed to stimulate these brilliant young minds, sharpening their mental tools at the critical stage at which career decisions are made and aspirations are shaped.
Knowledge derived from the show is channelled towards the development of innovative solutions that address local and global challenges, fostering an entrepreneurial mindset and problem-solving abilities. At this critical juncture in Africa's developmental phase, a generation of critical thinkers are vital to the continent's growth.