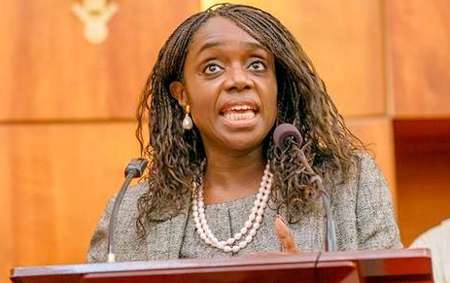 The Minister of Finance, Kemi Adeosun, has advised all heads of Ministries, Departments and Agencies to minimise cost and increase revenue generation.
She said this on Tuesday in Abuja while opening a workshop on "Compliance with the Fiscal Responsibility Act'', organised for senior officers of the MDAs.
In an address titled: "The Business of Government", she said they should recognise the current financial priorities of the nation and cut their costs, eliminate wastage and plug revenue leakages.
She said many agencies were engaged in quasi commercial activities on behalf of the government and were expected to manage those organisations in a manner that maximised operating surplus.
Adeosun said in other countries, government functions such as visa processing, passport issuance, company registration and regulation were major revenue earners.
She said: "However, in Nigeria many agencies are operating in such a manner that returns minimal funds to government.''
She said this was caused mainly by wastage, illegal recruitment, bloated expenses, loans to staff and employment of expensive consultants.
She commended the Joint Admissions and Matriculation Board and Nigerian Maritime Administration and Safety Agency, saying they had both significantly improved on their remittances.
She encouraged other agencies to urgently review their costs and revenues with a view to increasing remittances to government coffers, adding that the Ministry of Finance planned to publish the performance of agencies.
Adeosun, however, warned agency heads that under the present administration, every naira was important, adding that whether funds were generated from oil or from fees, the same standard of accountability for public money would apply.
She told the participants that compliance checks would be undertaken to ensure that agencies adhered to the new requirements.
Accountant General of the Federation Ahmed Idris said revenue generation should be improved on to meet the targets set for the year.
She said: "We only realised about 35 per cent of the N1.3 trillion revenue estimated for 2016.
"For 2017 it has been lowered to about N807 billion and we are now in the third quarter of the year but what we have been able to realise to date is about N120 billion.
"We are now in September which means we have not even gone half way; we are just hovering around 25 per cent of the estimated revenue for this year as far as Internally Generated Revenue for this year is concerned.''
He said not meeting the expected revenue target had taken its toll on disbursements to the MDAs.
Adeosun said: "We must go back and see what we can use to enhance our revenue generation otherwise the budget would not be funded and that is why we have gaps in terms of releases.
"Agencies wonder why certain components of the releases are not made 100 per cent, but this is partly the reason.
"The estimated revenue is not really achieved as expected and therefore the releases could not be made as expected.''
He, however, urged the heads of agencies to be more creative in revenue generation efforts to meet the individual targets of agencies and collectively meet the estimated revenue to fund the budget.